Mastering MS Excel Course Online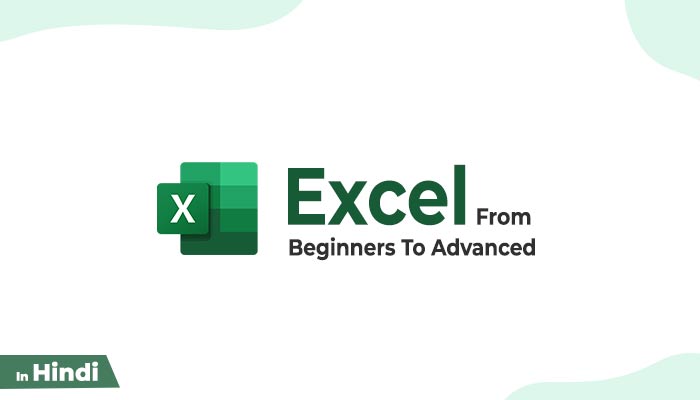 About Course
This course is about Microsoft Excel, which is a very widely used software application in a wide range of industries. Having a good knowledge of MS Excel can prove to be an added advantage for your career, or your business. Once you are done with the course, you would be able to use many of the options in MS Excel.
In this MS Excel course, we are going to understand many different concepts from scratch, and we would consider simple and relatable examples, to easily understand the concepts, and implement them wherever, and whenever required.
We always make sure that all our students get the best, and the most recent things to learn, so, we are always monitoring the course, and continuously updating and improving it.
Once you are done learning MS Excel from this course, you can use a lot of options available in the Excel application, and also you can further go on to learn Advance Excel, which would allow you to use many other things, like charts, pivot tables, Macro, and much more.
This course is designed keeping beginner students in mind. So, we are not assuming any prior knowledge or experience related to MS Excel. So, anyone who is interested in learning MS Excel can take this course. All you need to have is just a good computer / mobile phone, a good internet connection, and some very basic computer knowledge to get started. We are glad to see your interest in learning MS Excel, and we are really looking forward to having you in the course.
Show More
What Will You Learn?
Fundamentals of MS Excel from scratch.

functions in MS Excel.

Shortcut keys.

Learn to use many different features in MS Excel.
Course Content
Introduction to Excel
Introduction to MS-excel

Advantages of excel

Why to learn MS excel

Launching MS Excel

Understanding the splash screen

Introduction to interface

Introduction to spreadsheet

Navigating through spreadsheets

Open and Close Workbook

Understanding different shortcut keys

Saving the worksheet
Font Group
Alignment group
Clipboard options
Finding and removing duplicate data
Find and replace data
Navigating through the data
Fill data
More about cells
Adding comments and notes
Insert block
Working with worksheets
Introduction to functions in Excel
Filter in MS Excel
Sorting of data
Slicers
Data validation in MS Excel
Templates in MS Excel
Freeze panes and split panes
Custom view
Conditional Formatting
Adding hyperlinks to the spreadsheet
Charts in MS Excel