Java Programming Course – Learn Java from Scratch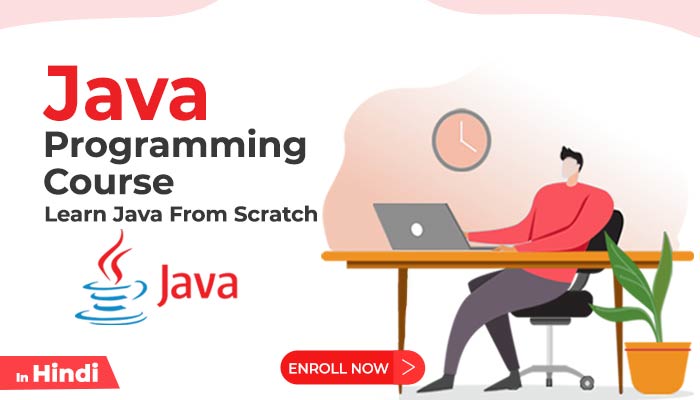 About Course
We welcome you to our course on Java programming language, which is one of the most popular and very widely used programming languages in the world. Learning Java can open many doors to learning and exploring different areas, like Android App Development, Desktop App development, Distributed Applications, Web-based applications, Game development, and much more.
We would consider many different concepts related to java from scratch and will go through different practical examples so that you can understand the concepts in an easy way. We do not assume that you are already familiar with some other programming language, but any prior knowledge related to programming would be appreciated.
We hope that you would enjoy learning Java with us. Happy learning!
Show More
What Will You Learn?
Java fundamental concepts

Practical examples

Object oriented programming

Multithreading

And much more…
Course Content
Introduction
java course intro

Java introduction, definitions and intro to some terminologies

how does a java program executes

downloading and installing java and Intellij IDEA

Writing a basic java program

understanding first java program
Data types in Java
Operators in Java
Introduction to conditional statements
Looping in Java – for loop
Looping in Java – while loop
Looping in Java – do… while loop
Looping in Java – Program example
Looping in Java – break keyword
Looping in Java – continue keyword
String in Java
String in Java – String methods
Arrays in Java
Arrays in Java – Methods from the Arrays class
Arrays in Java – multidim array introduction
Arrays in Java – creating 2 d array
Math class Java
Methods in Java
Exception Handling in Java
StringBuilder in Java
File handling in Java
File handling in Java – Writing to the file, using FileWriter
File handling in Java – Reading from the file, using FileReader
File handling in Java – using scanner to read from the files
Object Oriented Programming
Object Oriented Programming – Constructors
Object Oriented Programming – static keyword
Object Oriented Programming – access modifiers
Object Oriented Programming – Principles of object oriented programming
Principles of object oriented programming – Inheritance
Principles of object oriented programming – Types of inheritance
Principles of object oriented programming – Polymorphism
Principles of object oriented programming – data abstraction
Principles of object oriented programming – encapsulation
Object Oriented Programming – this keyword
Object Oriented Programming – abstract classes part 1 & abstract class part 2
Object Oriented Programming – super keyword
Object Oriented Programming – final keyword
Object Oriented Programming – Understanding interface
Introduction to Multithreading in Java
Student Ratings & Reviews
No Review Yet