How to become a Chartered Accountant
A chartered accountant is a professional course. It is one of the best options in India. Every year more than 4 lakhs of students appear for exams, and out of these 1 lakhs, students are able to pursue. However, before getting into the professional course, first, we will see about what is a chartered accountant? What does a chartered accountant do?, why build a career in chartered accountancy?, the scope of chartered accountancy?, Demands of chartered accounts? pros and cons of a career in chartered accountancy? Then will discuss the foundation course route after the 12th and the Direct entry route after graduation and postgraduation.
How to become CA (Complete CA Course Guide)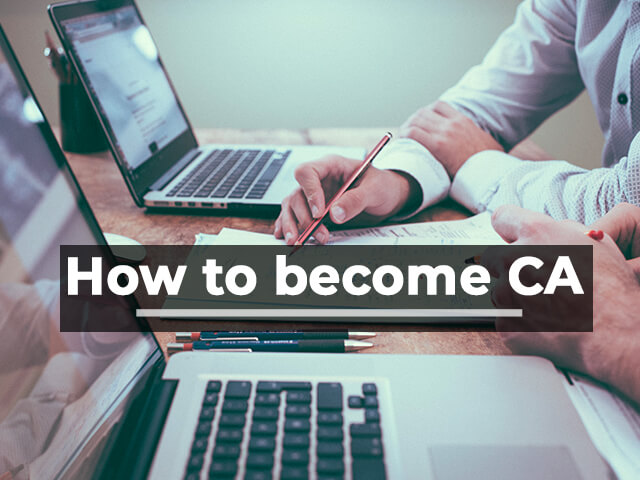 What is a chartered accountant?
Most commerce students have a dream to pursue CA after graduation. Although everyone knows that it is not much easy. To become CA students have to pass the tough exam. The job of a Chartered accountant is to prepare financial accounts, provide financial advice, analyze audit accounts, and do tax-related work. There are many companies like young, Lodha, BDO international and ss Kothari Metha, etc are big companies that higher freshers and well-experienced graduates and CA in their companies.
What does a chartered accountant do?
Chartered accountants work in various sectors of the economy. Accounting and auditing, management and consultancy, Tax management, cost accountancy, settlements, and estates, serving on board of directors, serving on boards of directors, serving as secretary of an organization, Arbitration duties, Investigative duties, etc. These are some of the sectors where chartered accountants can work.
Why build a career in chartered accountancy?
The chartered account offers great flexibility, As CA is a stable and secure profession. Chartered accountancy is great for pursuing a global career, the salary packages of CA are much more impressive. And CA plays a different role in making a business successful. Chartered accountancy is a global qualification there are many different career paths in CA if one has an interest in building a career in CA …….then in this article, you will get deep information about How to build a career in CA.
Scope of chartered accountancy
There is a number of job opportunities in CA at present as well as in the future. If you are a self-employed CA. Then you have a large amount of scope (opportunities) in this field, Good and service tax, international taxation, Tax planning, Internal audits, wealth management, startup ecosystem, Businesses and industries, and Financial institutions.
Pros and Cons of a career in chartered accountancy.
Pros of chartered accountancy
It's a stable and growing job field.
Best for auditing financial statements.
There is a clear career path.
You yourself build professional growth.
The earning potential is favorable.
Cons of chartered accountancy
Lots of stress.
There is a busy schedule
The education is ongoing.
How to Become a Chartered Accountant after 12th
A candidate who wanted to become the CA. After the 12th, first, they need to clear the CA CPT exam then after clearing the entrance exam then the candidate will get the certificates from the Indian chartered accountant's institute (ICAI)
This course is a three-level course:
Common proficiency test (CPT)
Integrated proficiency competence course test (IPCC)
Final course (FC)
CA foundation course:
The candidates who have passed 10th and 12th are eligible for this course. Candidates can apply for the CA CPT exam, The candidate who has passed with science, commerce, and art stream with 55% marks can apply for this exam.
Entrance exam CA CPT exam. (Common proficiency test).
CA Intermediate Course:
One can only apply for the Intermediate course, The candidate who has passed the Foundation course.
The duration of this course is 2 months 6 months/3 years.
The admission process can be done by clearing the IPCC exam. The total marks for the IPCC exam are 100 marks out of those candidates who need to score 40% marks in the exam.
Suppose the candidate is an undergraduate or postgraduate then the candidate can take the direct entry route method, And also the candidate should pass(clear) the ICSI or ICWA examination.
Final Course:
As the candidate passes the intermediate course then the candidate is eligible for the Final course.
The duration of this course is for 2 years
There is no entrance exam for the final course. Just the candidate needs to complete the article ship.
In, this way candidates can appear for the chartered accountant exam. The process of these courses I have discussed above. Hope you guys will look into it.
FAQ About Chartered Account (CA)
Q. Is the 12th mark important for CA?
Ans: No, 12th marks are not important, but it requires you to pass the 10+2 exam to appear for the exam.
Q. How many years are required to become CA, After the 12th?
Ans: After completing the 12th, you require 5 years to become CA.
Q. Is CA very difficult?
Ans: NO!  CA is not very difficult, but if you guys do not study properly then it might be difficult for you.
Q. what is the future of CA?
Ans: CA has a very bright future, and he/she can start up their own independent practice.
Q. Is CA a boring job?
Ans: No, definitely not but the person who does not have an interest in this field might feel boring.