Ways to Praise A Child With Effective Words
Every child needs love, care, and the right way of Guardianship so that they can learn good things in life, such things closely affect their growth and that can decide their future personality. Your words can motivate the child which can boost their confidence level and move their attention to learn positive things. Every time you should how to treat your child for that sometimes you need to praise them with some effective words. Here you will get to know about such types of words throughout the article information.
If you don't know how to praise a child then must focus on the overall information of this article where you will read about the process to treat children with love and care with the use of some praiseful words for them.
Doesn't matter which age child you have if you know how to praise Child with effective words then you can get to see positive changes in them. After all, every parent expects good and right behavior from their child, such things give hope to parents that their child will become a good person in future life.
How to Praise A Child With Words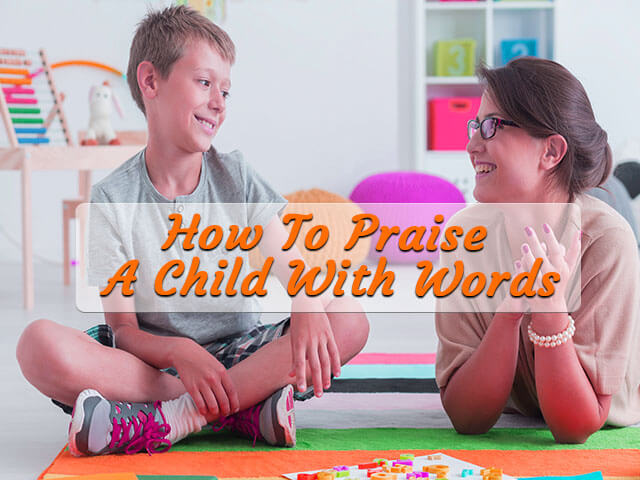 Important Reasons Behind to Praise a Child with Words
Communication is the best medium between two or more people to get connect closely with each other. When you know how to communicate with children in the right way that time you can get to see changes in them as you expect.
When your child starts to speak and get to realize things, then that is the so crucial time for parents and child. We can say it is a constructive period in every child's life. So if you speak with them with positive praiseful words, then the child can pay more attention to you. While they can start to learn good things about living in another way it can bring closeness between you and them.
Your praiseful words can give moral support to your child this act can remove depression and phobia from them. While it can be a good procedure to build confidence in the child.
As parents, if you want to see some good changes in your child's behavior then try to communicate with them from time to time. During such a moment, nothing can be best than the use of praiseful words, this thing can help them to give motivation.
Sometimes you are unaware of that thing by which your child's morale goes down or they can be demoralized like some common things also can affect them negatively. In that situation, if you start to communicate with them in the proper way it can remove their stress as well as they can start to share their issues with you. Later on, you can make them free easily from such negatively affected things. Doing communication through positive and praiseful words with children can remove so many small issues of them.
You may have seen that some children are very much adaptive about learning and curious about getting to know various things. If you know how to inspire children with praiseful words about the study and learning such things go to help for them to build skills and qualities into them.
Your praiseful words can help to create and develop the interest of children in extracurricular activities like can participate in singing, sports competition, etc.
As a parent it is your responsibility to get to know the hobbies and potential of your child, so once you get realized that then you can develop their interest in such things by loving, caring, and praising them.
Your praiseful words not only help to develop children internally but can give you the best results through them via their overall activities.
Every child is dependent for some years that time as a parent it is your responsibility to nurture them with a good background, care, and treatment. Also, their future development is totally your responsibility so from time to time communication is so essential thing with them. Praiseful words used in communication mean giving support to children and creating awareness in the child about their potential and getting to introduce them with possibilities like what can best they do in their life.
The motive of this explanation is that make you realize the importance of praiseful words with a child. So that you can focus on this thing, next you will get to know about some words and methods by which you can from time to time praise your child with some special and effective words.
How to Praise a Child With Words.
Here you will get to read about some specific words, sentences to praise a child. Apart from that, you will get to know about some moments, during that you must appreciate and praise your child so that they will get motivated as well as one good lesson they can learn from that.
As we all know that children always try to learn by observation, whatever things they observe in their background that they try to think or there is curiosity created in them. Now if you have seen that your child's behavior is helpful to other people and he/she tries to share something with others then don't miss to praise them.
Every child mostly tries to pay attention to animals like a pet in your house or in the background. Sometimes child tries to give food to animals such things shows that they are really kind and careful about other living being. So that time you must stand beside them and help them to share some food with that animals. You can praise your child for that act, it can develop helping nature into them also that they can realize to care about others.
Some children like to play specific sport and they want to participate in different competitions of that sport, so as a parent you should try to encourage them by giving some time with them on the ground. So that they can play with comfort and on their moment during the playing game you can use some praiseful words we can say cheerful words so that their confidence can build on high level.
Sometimes a child can get low marks in an exam or he/she can scare of any specific subject, that time you should pay attention to overcome that subject-related phobia from their mind and motivate them to study that subject in an easy way. You should make them realize that success and failure depend upon efforts, so you must use some praiseful words about the qualities which are already in them. This thing can push them on a positive path, by that they can achieve success in future life.
Appreciation for good work, surprise gifts this kind of activity also helps to build the confidence level of your child. Such things give them inspiration while they try to do things seriously to prove themselves.
All the above-given tasks can help to praise your child in an effective way, now next you will get to see some specific words and sentences with the use of them you can praise your child in different moments.
Words to Praise a Child
Very Brave!
That's Incredible!
Great!
Superb!
Wonderful!
Genius!
Marvelous!
Unbelievable Work!
How Extraordinary!
Excellent!
Good Job!
So Nice of You!
So Clever!
Awesome!
Terrific!
So Fabulous!
Bravo!
Congratulations!
You are a Special!
You are a champ!
So Talented!
Intelligent!
You are a Super!
You are a Winner!
So Studios!
You are so Cute!
So Beautiful!
So Charming!
Nice Work!
Well Done!
Class Act!
Brilliant!
Amazing!
Very Good!
Wow!
Great Discovery!
So Kind!
Thumbs Up!
Far Out!
Phenomenal!
Praiseful Sentence For Child
You have done nice work, Proud of you!
Great achievement! Best of luck with a bright future.
Unbelievable! You have solved this question so fast.
You are so cute! Really love you.
Wow! It is so mesmerizing sketch.
Good Job! You are a real champ.
So Nice of you! I like your helpful nature toward others.
Good Boy! Nice marks you have scored in Science.
Real Angel Girl! I love your voice and song.
Brilliant Answer! I am sure you will scored good marks in to exam.
In this way, you have read vital and beneficial information about praising a child. Apart from that, you have read some additional information through that you got a better idea now, on which moment you should praise a child. The main motive behind this article was to introduce you to some praiseful words, sentences, and methods so that you can use this information as a reference whenever you need to praise a child. Hope you have well understood all of this information try to share this information with others. Thanks for being with us…
Frequently Asked Quiz Questions About Praiseful words for child
Q. What are some examples of praiseful words for a child?
Ans: So cute, Very good, Genius, Charming Boy, Angel girl, Brave Boy, etc.
Q. What is the importance of praiseful words for a child?
Ans: Praiseful words help to build confidence in a child, also such words give moral support to them. It is an act to show your love, and care about your child. Most of the time praiseful words give encouragement to the child.
Q. If any boy child has won a running competition prize, then what kind of praiseful words we can use for him?
Ans: Congratulations!, Good Job!, Great Achievement!, Excellent!, Bravo! Etc.
Q. If any girl child has won a singing competition prize, then what kind of praiseful words or sentences we can use for her?
Ans: Really Amazing Voice!, So purity in your voice! God bless you, So mesmerizing voice!, Wonderful! Well done. Etc.
Q. How can motivate a child with praiseful words and sentences after failure in an exam?
Ans: You are brave you can do it, You are intelligent you need more effort only, Next time you will surely achieve it, Don't be nervous you are an intelligent boy, etc.