District Collector Exam
If you are a brilliant student and you want to serve your country by becoming a top-level government official. Then district collector is the best carrier option for you. The district collector is the administrative head of the district administration. It is a highly prestigious and white-collar job. If you want to become a district collector then there are two ways first is that you have to crack state UPSC exams second is that you have to crack UPSC civil service exam. If you crack UPSC civil service exam and you opt for IAS then after training you are appointed as district collector of a particular district. If you clear state PSC exams you are appointed as deputy collector of a particular district and through promotions you can become a district collector. In this article, we are going to discuss the detailed process of becoming a District collector.
How to become a district collector?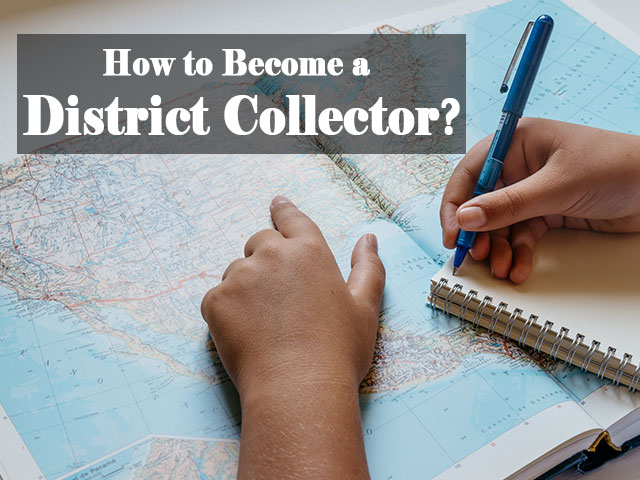 India is the union of states there are 29 states and 7 union territories in India. Each state has its own public service commission. If you crack the state public service commission exam you can become deputy collector and finally collector via promotion. We cannot discuss the syllabus and requirement process of all 29 states of India in this article for that you have to visit the official site of the state PSC for more information in this article we are going to concentrate mostly on becoming collectors through UPSC civil service exam.
Qualification for District Collector
To become a district collector you have to apply for the IAS post in UPSC civil service exam. To apply for UPSC civil service exam you must be a permanent citizen of India. The minimum age limit for becoming a collector through UPSC civil service exam is 21 years and the maximum age limit is 32 years. Age relaxation is given to reserve classes as per government rules. OBC has 3 years of relaxation. SC/ST has 5 years of age relaxation. Physically disabled candidates have 10 years of age relaxation. The minimum educational qualification for becoming a district collector is graduation in any stream from a recognized university. You don't have an unlimited number of attempt to crack this exam for the general category the the maximum number of attempt are 6. Candidates belonging to the OBC category can have a maximum of 9 attempts. There is no limit for attempts for candidates belonging to SC and ST categories. Reservation is given according to government rules.
UPSC Civil Service Exam Pattern
The UPSC Civil Service exam pattern is conducted in three stages prelims, mains, and interview.
Stage 1 Preliminary Examination:
The pattern of Preliminary Exam
The preliminary exam consists of two objective papers General Studies I and General Studies II with 200 marks each.
The General Studies II paper is of a qualifying nature its mark is not counted while preparing a list of students who clear the prelims exam to give the main exam.
Only those students who clear prelims are allowed to seat in the main exam.
To clear the prelims exam you must have 33% marks in General Studies II and your score should be above the cutoff marks in General Studies I.
The question paper will be printed in both English and Hindi language.
The time limit of each paper is two hours.
This is just a screening test its purpose is to do screening of candidates for the main exam its marks are not considered in preparing the final merit list.
There is a negative marking for every wrong answer 1/3 mark allotted to the question is deducted.
| | | | | |
| --- | --- | --- | --- | --- |
| Paper Name | Time Duration | No. of Questions | Total Marks | Nature of Paper |
| GS Paper I | 2 hours | 100 | 200 | Marks are considered to prepare the merit list |
| GS Paper II | 2 hours | 80 | 200 | Qualifying |
Syllabus of Pre military Exam
Paper I-(200 marks)
History of India and Indian National Movement.
Current affairs on National and international importance.
Geography of the world and India.
Indian polity and panchayat raj.
Economics of India.
Environmental science.
General Science.
Paper-II-(200 marks)
Basic numeracy.
General Mental Ability.
Comprehension
Decision-making and Problem-solving.
Logical reasoning and analytical ability.
Interpersonal skills including communication skills.
Stage 2 Main Exam
The pattern of the Main Exam
The main exam consists of 9 papers that are descriptive in nature.
This is both a qualifying and merit exam in nature and the mode of this exam is offline.
The first two papers an Indian language paper and an English language paper is qualifying paper Their marks are not counted for preparing the merit list but scoring a 25% mark in it to qualify for merit is mandatory.
The Indian language paper will not be compulsory for candidates from the states of Arunachal Pradesh, Manipur, Meghalaya, Mizoram, Nagaland, and Sikkim.
The time duration is 3 hours for each paper.
Qualifying Papers:
Paper-A
(The language mentioned in the eighth schedule of the Indian constitution) 300Marks
Paper-B
English 300 Marks The list of the remaining 7 paper is as follow
Paper-I
Essay 250 Marks
Paper-II
General Studies-I 250 Marks (Indian Heritage and Culture, History, and Geography of World and Society)
Paper-III
General Studies-II 250 Marks (Constitution, Polity, Governance, Social Justice and International relations)
Paper-IV
General Studies-III 250 Marks Technology, Economic Development, Bio-diversity, Environment, Security and Disaster Management)
Paper-V
General Studies-IV 250 Marks (Ethics, Integrity, and Aptitude)
Paper-VI
Optional Subject-Paper 1 250 Marks
Paper-VII 
Optional Subject-Paper 2 250 Marks Sub Total(Written test) 1750 Marks
Selection of Optional Subject
The candidate can select an optional subject from the list of following subjects
Agriculture
Animal Husbandry and Veterinary Science
Anthropology
Botany
Chemistry
Civil Engineering
Law
History
Geology
Geography
Electrical Engineering
Economics
Commerce and Accountancy
Management
Mathematics
Mechanical Engineering
Medical Science
Philosophy
Physics
Zoology
Statics
Sociology
Public Administration
Psychology
Political Science and International Relations
Literature of any one of the following languages:
Assamese, Bengali, Bodo, Dogri, Gujarati, Hindi, Kannada, Kashmiri, Konkani, Maithili, Malayalam, Manipuri, Marathi, Nepali, Odia, Punjabi, Sanskrit, Santali, Sindhi, Tamil, Telugu, Urdu and English. Syllabus of the Main exam The syllabus of the Main exam is very wide and comprehensive to get details information about it you have to visit the official portal of UPSC
Stage 3 Personality test The candidate who cracks the main exam is called for an interview or personality test which is held for 275 marks.
The candidate who passes both the main exam and interview are sent to Lal Bahadur Shastri Academy of Administration for further training and then they are appointed as District collectors or Deputy District collectors.
Tips to Crack the Entrance test and interview.
1) Read a good English newspaper such as The Hindu or Times of India it will improve your English and also keeps you updated about Social and Political event happening around you. 2) Read local news it will keep you updated about your own locality. Reading newspapers will prepare you for interview questions and the current affairs section of competitive exams. 3) In the beginning NCERT books because they are authentic and written in simple language. 4) For current affairs read Pratiyogita Darpan or Manorama yearbook regularly. 5) Don't waste your time memorizing every beat of information you cannot memorize the entire book just read it and make your own short notes. 6) For memorizing factual information use different types of memory tricks. 7) You can also take help for online and offline coaching classes. 8) The trend of online coaching is increasing these days but you can take the class when you want and even if you miss the class you can rewatch it. Some Ed-tech companies also offer doubt clearing season. 9) Solve model question paper or online test for practice. 10) For the preparation for interviews read books related to interviews and watch mock interviews available on the internet. Follow websites like Gyanipandit for articles related to interview preparation. 10) Finally stay motivated "Try try but don't cry". Because If even your hard work does not bring success you can become a guide and mentor to others.
Step-by-step procedure to become District Collector through UPSC.
Step 1:- Pass your HSC exams Step 2:- Pass your graduation in any stream of your choice Step 3:- Check your eligibility for UPSC civil service exam and if you are eligible apply for it and opt for IAS service. Step 4:- Crack prelims exam Step 5:- Crack main exams and interviews or personality tests. Step 6:- Successfully complete training in Lal Bahadur Shastri Academy of Administration. Step 7:- After 2 to 3 promotions and experience of 6 years as an IAS officer, you will be appointed as district collector.
Role and Function of District Collector
Land Revenue collection
Collection of other government dues.
To give and recover short-term loans to poor farmers.
Maintenance of land record.
To collect and maintain rural statistics
To perform the role of land acquisition officer for the purpose of colonization, industry, slum clearance, capital construction, and so on.
Implementation of land reforms.
To look after the welfare of farmers.
To estimate the loss of crops and recommend relief in case of natural calamities like fire, drought, and flood.
Supervision of treasury and sub-treasury.
Management of large land areas under the ownership of the government.
Administration and supervision of the subordinate magistracy
The police and jails also come under the supervision of district collectors
The petitions received from the government and others are disposed of by the collector.
To release prisoners of parole.
Submission of annual crime report to the government.
Different types of licenses like arms, hotels, explosives, and petroleum are granted and suspended by district collectors.
To implement Entertainment Tax Act and Press Act.
In case of any abnormal situation in the district, the armed forces are called as per the orders of the District Collector.
To punish the offenders under Factories Act and Trademark Act.
Disposal of unclaimed property.
He acts as chief election officer and coordinates the election process in every election in his district.
He conducts and supervises a census every ten years in his district.
Play the role of chief protocol officer in the district.
He is president of the District Plan Implementation Committee.
During Ceremonial functions in the district, the collector plays the role of the official representative of the state government.
He acts as a connecting link between the citizens and administration in the district.
Supervision of municipal administration in the district.
Public Relations officer of the government.
District collectors play an important function in disaster management he acts as the crisis administrator-in-chief during natural calamities and other emergencies.
He also presides over District Disaster Management Committee.
The personnel matters of the district staff are handled by the District collector
The district collector has the responsibility of providing food supply and other essential commodities.
Conclusion:
After reading the above article we realize that the District collector is the job of glamour prestige but it is also the job of responsibility. We should consider it as a position of great responsibility instead of a position of power. If you want to become a District collector that should be your aim since school days the recruitment process is not easy lots of hard work and smart work is required to become a collector.
FAQ About becoming District collectors
Q. Can We become District collectors after the 12th?
Ans: No, In order to apply for the post of collector or deputy collector through UPSC of state PSC you must complete your graduation first.
Q. From Which stream do we need to complete our graduation in order to apply for the post of District collector?
Ans: There is no condition that you should complete graduation in this particular stream. The only condition is that you should complete a bachelor's course from a UGC-recognized university.
Q. How many attempts are available to clear UPSC Civil Service Exam?
Ans: For General Category:- Maximum 6 attempts. For OBC Category:- Maximum 9 attempts. For SC/ST Category:- Unlimited attempt. For the Physically disabled:- Unlimited attempt.
Q. Can we become a District collector without giving UPSC Civil Service Exam?
Ans: Yes, We can become district collectors without giving UPSC Civil Service exam if we apply for the for of deputy collector through state PSC. Deputy collector is promoted to collector with experience in service.
Q. To which department district collector belong?
Ans: The district collector is the highest official of the revenue department.