BHMS Course Details
From ancient times almost all over the world countries various kinds of medicine and health related therapies were invented. If we are looking at medical field history then one thing can be concluded that There was enough knowledge and procedures were available to cure patients of various kinds of disease.
But every time some new kinds of diseases were challenging to mankind, So somewhere new inventions had given birth to medical-related other therapies.
In India most commonly and frequently used therapy was Ayurvedic, While in Egypt Unani ayurvedic medical therapy was mostly used to cure patients of disease.
Further, some other medical therapy invented like allopathy, Homeopathy, etc. The big breakthrough in medicine was allopathy and homeopathy Because these therapies were giving resolution for every new kind of disease.
These phenomenon has created revolutionary changes into the medical sector, And they have given new hopes to mankind. Here in this article, you are going to know about such a wonderful therapy-related bachelor's degree course, which is popularly known as a B.H.M.S.
BHMS Course Details Information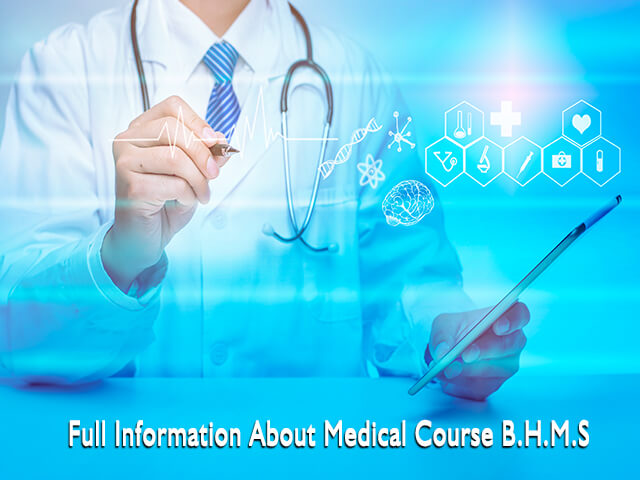 This is Bachelor's or graduate degree in homeopathy, If you are interested to get admission for this course then this article will be so helpful for you.
Through this information your doubts and queries will be fulfilled regarding this course, Also you will get to know all basic criteria, Eligibility etc related information via this article.
Full-Form And Meaning of B.H.M.S
As most peoples are knowing to these words B.H.M.S, But everyone doesn't know the full form and meaning of these words. The Exact full form of B.H.M.S is Bachelor Of Homeopathic Medicine And Surgery.
That means it is a bachelor or graduates degree educational course into homeopathy, Which is a substream of medical.
This therapy usually focused on the cure patient with the use of globulin pills, Then use of any kinds surgical or injecting instruments over the body.
Samuel Hahnemann is the father and inventor of Homeopathy, While this therapy was first introduced into the United States Of America.
B.H.M.S Course Duration
The total duration for this course is five and half years (5 and 1/2 years), Here into four and half years duration students are getting academic education related to this course. While after finishing this duration there is a one-year compulsory internship has been added with this curse.
In academic sessions, students are getting both kinds of theoretical and practical knowledge about homeopathy. Where they are getting full scope to build and expand their knowledge regarding the medical field.
Also every day they can learn something new related to disease, Treatment for disease and its procedure, etc.
B.H.M.S Course Fees
When we need to calculate exact fees for this course, Then we have to analyze some factors on which these course fees depend. Like as college type, College rank, Location for education, etc.
In better words, we can say there is governmental as well as private colleges and educational institutions are available which offer this course. But as compare to private colleges into government colleges fees and other expenses are so much lesser.
So as per your college selection, you are going to pay course fees for this education.
Another important factor that creates slight changes in this education expenses is location. Like if someone going outside from their native place to get this education, then another add-on cost like living place charges, food, etc kinds of expenses will be added to the total cost of this course education.
The average fees into government college per annum is around between 20,000 to 50,000, Which is going to be around 2.5 Lakh till completion of course.
While in private colleges average fees per annum are near around 1 Lakh, which will be near around 4.5 Lakh till the completion of the course.
Some private colleges and institutions have high ranks with well-maintained standards so their fees may be high in this scenario. Also, the rest of the add-on charges will be separately added into this cost as we discussed above earlier about some factors.
So we can conclude hereafter reading all of this above information, that is always you should keep in mind all these such kinds of factors before calculating this course fee.
Eligibility Criteria For Admission In to B.H.M.S
There are some parameters that are responsible or on the basis, you can elect to get admission for this course. Here total discussion will be going on to these parameters, Some eligibility-related parameters are given below.
All these things are compulsory to become eligible for this course admission.
1. You must have completed or passed class 12th or equivalent Education into science stream from a recognized board or equivalent university.
2. You must be passed class 12th education with subjects like Physics, Chemistry, And Biology.
3. The Aggregate Percentage in class 12th should be 50%, Should not be lesser than this.
4. You must have to be passed the national level entrance exam i.e NEET, Which has conducted for all Indian students.
While some states are conducting entrance exams for their specific region students. So according to this provision, students should have passed anyone entrance exam among all of them.
5. Minimum age criteria for students to get admission for this course is 17 years.
So you must have fulfilled all of these criteria, then easily you can get admission into B.H.M.S college on the basis of entrance exam marks.
List Of Entrance Exams For B.H.M.S
Here you are going to know about some entrance exams which are mandatory to get admission for B.H.M.S, Details about all of these exams as per given below.
NEET (National Eligibility Cum Entrance Test)
AP EAMCET (Engineering, Agricultural, Medical Common Entrance Test for Andhra Pradesh and Telangana states)
KEAM
PU CET
IPU CET
BVP CET
Etc … All Of these exams are multiple-choice question based i.e MCQ, Where there are changes in total marks and questions as per the exam.
Admission Process For B.H.M.S
As we have discussed already that to get admission for this course, Interested aspirants should get qualified through anyone entrance exam.
So after getting the entrance exam result, the Admission process usually going to start everywhere in B.HM.S colleges and Medical Institutions.
Colleges including government and private are time to time publishing notification regarding admission either on their official site or through newspapers.
So interested candidates can apply through an online platform, where candidates can get multiple options about applying to their favorite colleges or institutions.
NEET entrance exam qualified candidates can apply to all over India B.H.M.S colleges. Where they can get admission to various colleges according to national level ranking on every specific college or medical institution.
While state-level entrance exam-qualified students can apply to their own state's homeopathic colleges or institutions. According to entrance exam marks, every college is releasing merit lists either on their official website or into college.
In this way, good marks scoring candidates can get admissions into their favorite colleges, while low marks candidates either keep on waiting or they have to choose other college preferences.
Through this way into all over India colleges admissions process going to be completed.
B.H.M.S Syllabus
You are going to know here about the total years of academic syllabus of B.H.M.S. The structure for this course has been designed in a manner like the first-year academic session is taking 1.5 years (One Year and six months). While next some academic sessions are taking 1 year respectively. The below-given syllabus is according to that.
First Year (Session Duration – 1.5 year)
Subjects:-
Homeopathic Pharmacy
Physiology Including Biochemistry
Homeopathic Materia Medica
Anatomy, Histology, And Embryology
Organon Of Medicine, Principles Of Homeopathic, Philosophy, And Psychology.
Second Year (Session Duration- 1 year)
Subjects:-
Homeopathic Materia Medica.
Forensic Medicine And Toxicology
Surgery Including ENT, Eye Dental, And Homeo Therapeutics
Organon Of Medicine And Principles Of Homeopathic Philosophy
Obstetrics And Gynaecology Infant Care And Homeo Therapeutics
Pathology And Microbiology Including Virology And Parasitology Bacteriology.
Practice Of Medicine And Homeo Therapeutics
Third Year ( Session Duration – 1 year)
Homeopathic Materia Medica
The Practice Of Medicine And Homeo Therapeutics
Organon Of Medicine
Obstetrics And Gynaecology Infant Care And Homeo Therapeutics
Surgery Including ENT, Ophthalmology, Dental, And Homeo Therapeutics
Fourth Year (Session Duration – 1 Year)
Repertory
Community Medicine
Organon Of Medicine
Homeopathic Materia Medica
The Practice Of Medicine And Homeo Therapeutics
B.H.M.S Colleges/Medical Institutions/ Universities
Here moving on towards colleges and institutions related information for B.H.M.S. Where you will get to know about almost all famous and well-known colleges name, who are offering this course.
1. Anushree Homeopathic Medical College – Jabalpur
2. Dr. D.Y Patil Viyapeeth – Pune
3. Parul University – Vadodara
4. Jyoti Vidyapeeth Women's University – Jaipur
5. Maharashtra University Of Health Science – Nashik
6. Orissa Medical College Of Homeopathy And Research
7. Vinayaka Missions University – Salem
8. Bharati Vidyapeeth Deemed University – Pune
9. Kerala University Of Health Sciences – Thrissur
10. Government Medical College And Hospital – Chandigarh
11. Homeopathic Medical College And Hospital – Kolkata
12. Nehru Homeopathic Medical College, Defence Colony – New Delhi
13. Nagpur College Of Homeopathy And Hospital
14. Goa University – North Goa
15. Dr. Abhin Chandra Homeopathic Medical College- Bhubneswar
16. Baba Farid University Of Health Sciences – Faridkot
17. Sairam Group Of Institutions – Chennai
18. EB Gadkari Homeopathic Medical College – Kolhapur
19. Solan Homeopathic Medical College And Hospital – Solan
20. GGSIPU – New Delhi
21. Dayalbagh Education Institute – Agra
22. Yenepoya University – Mangalore
23. Smt. Chandan Mohanbhai Patel Homeopathic Medical College – Mumbai
24. DKMM Homeopathic Medical College And Hospital – Aurangabad.
25. Motiwala Homeopathic College – Nashik
26. Dr. J J Magdum Homeopathic Medical College – Kolhapur
27. Kakasaheb Mhaske Homeopathic Medical College – Ahmednagar
28. Shri Janta Homeopathic Medical College – Akola
29. Alvas Homeopathic Medical College
30. AM Shaik Homeopathic Medical College – Belgaum.
31. Dr. BD Jatti Homeopathic Medical College, Hospital And PG Research Centre-Dharwad
32. RKDF University – Bhopal
33. LNCT Group Of Colleges – Bhopal
34. Madhav University – Sirohi
35. Tantia University – Sri Ganga Nagar, Etc…
Post Graduation Courses After B.H.M.S
Some post-graduation courses you can see as given below, You can pursue these courses after completion of B.H.M.S education.
1. M.D (Homeopathic) – Practice Of Medicine
2. M.D (Homeopathic)- Materia Medica
3. M.D (Homeopathic) – Paediatrics
4. M.Sc Medical Anatomy
5. M.D (Homeopathic) – Organon Of Medicine And Philosophy
6. M.D (Homeopathic) – Pharmacy
7. M.Sc Medical Biochmistry
8. Master Of Public Health
9. M.B.A (Healthcare Management)
10. M.Sc Neuroscience, Etc…….
Job Opportunities And Salary After Completion Of B.H.M.S
After completion of B.H.M.S education, you can get some well-reputed job profiles where you can earn high salary packages or attractive pay scale.
These kinds of job profiles are usually available in the private and government sectors. For some job profiles, you can see below
1. Doctor
2. Therapist
3. Teacher
4. Pharmacist
5. Public Health Specialist
6. Private Practitioner
7. Researcher
8. Consultant
9. Medical Assistant
10. Scientist, Etc…
As per told earlier these profiles are available in government and private sectors so according to that you can get a salary. Minimum 2 Lakh/Annum to 50 Lakh/Annum salary you can earn through such kinds of profile. The private practitioner can set up their own clinic or hospital and start work as a doctor.
If you are completing a post-graduation degree after B.H.M.S then you can be well settled into the doctor profession. Which can be a good platform for earning as well create identity in society.
In this way, we have covered all points regarding the B.H.M.S course, where you have read all kinds of basic information about this course. Hope you have like and well understood this information.
Frequently Asked Questions Over This Topic
1. What is a full form of B.H.M.S?                                                                                Ans: Bachelor Of Homeopathic Medicine And Surgery.
2. Do I need to qualify entrance exam to get admission into B.H.M.S?                                Ans: Yes.
3. What is the Duration Of the B.H.M.S course?                                                          Ans: 5 years and 6 months.
4. Is there any compulsion to complete an internship after completion of B.H.M.S course? Ans: Yes.
5. What level of B.H.M.S degree?                                                                                    Ans: Bachelor or Graduation level.