Courses after 12th Science (Biology)
We are always said, the most important turning points in the education life is 10th and after that 10+2. The further career life of an individual depends upon the courses they choose during this phase. Various options can opt for a better career life after 12th. If you have chosen the PCB field after 10th grade and wish to work in the field of biology, then various options can be chosen.
We have already discussed the courses after 12th standard that can be done. But choosing any opt-out of a list is very difficult, but extremely important. You need to choose the career option depending upon your personality, strength, and your interest in the subject.
We have here provided a list of options and their related information. Before choosing any of the options, consult the person already in that field, take the opinion of your parents, consult a career counselor, and then pursue the career of your choice.
Best Medical Courses After 12th Science PCB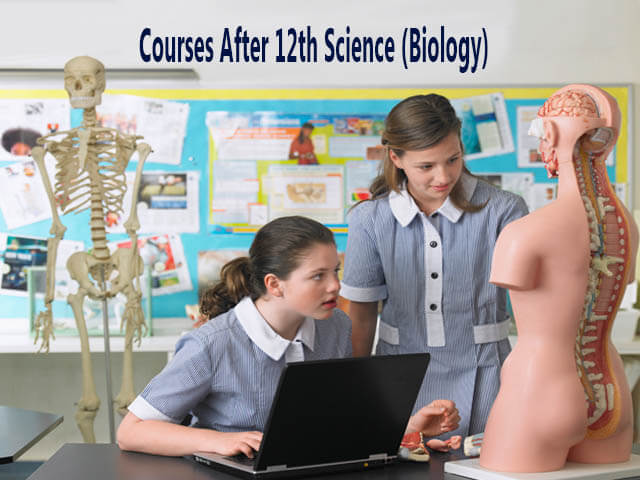 The students that are eligible with PCB+2 can apply for these courses listed below:
MBBS
BDS
Pharmacy
B.H.M.S
B.A.M.S
Bachelors of Physiotherapy
Diploma courses (specialized field)
Sc Nursing
Sc Courses (specialized courses in a different field)
The list of courses given above is discussed below in detail.
1) MBBS:
An MBBS degree is for the aspirants who wish to become a doctor. MBBS is a Bachelor of Medicine and Bachelor of Surgery, which provides you with a certificate for medical practices. You can join MBBS courses into various private and government colleges after 10+2 with PCB/PCMB group. After the board examination, one needs to crack NEET entrance with a good percentile to manage a seat in GMC and private colleges.
Duration of MBBS:
The duration, of course, is 5 years and 6 months on an internship in the health center, hospitals, and health camps.
Syllabus MBBS:
The subjects included in the studies are Anatomy, Microbiology, Physiology, Surgery, Forensic medicine, Ophthalmology, Biochemistry, & Toxicology, Pathology, Anesthesiology, Medicine, etc. There are almost 18 subjects that are too be studied in the complete course.
Post-Degree:
After a degree, one can do post-graduation courses which are called MD courses for 2 years and 1 year of rotational internship in hospitals. The degree can be completed with any specialized subject.
Eligibility for MBBS:
The candidate must have passed 10+2 grade with PCB group and the pre-entrance examination must be cleared with a good qualifying percentage. Various private colleges provide their qualifying examinations for the entrance.
MBBS Colleges in India:
GITAM, Visakhapatnam
Armed forces Medical College, Pune
AIIMS, Delhi
Lady Hardinge Medical College, Delhi
KMC, Manipal
Christian Medical College, Vellore
BJ Medical College Pune
Grant Medical College, Mumbai
Institute of Medical Sciences BHU Varanasi
Other than these, there are more than 100 colleges in India that provide this course and along with it private colleges are also there which can also be chosen, but there is a considerable amount of difference in the fee structure between the colleges.
Other than this, Foreign colleges are also available that provide this degree, like Australia, Russia, China, the US, the UK for foreign students. The conditions are so applied that the candidate wishing to practice in India has to clear an MCI provided examination for Indian recognization of foreign degrees.
2) BDS:
BDS is the degree for professional and recognized dental courses. This is the most opted course after MBBS. The course involves the complete study of dental organizations in a person. Dental Council of India regulates BDS courses and you have to register your degree before practicing in India.
Duration of BDS:
The duration of the course is 4 years of degree and 1 year of internship with a recognized dental clinic.
Syllabus of BDS:
The course includes the study of Dental anatomy, histology, biochemistry, physiology, microbiology and pathology, orthodontics, oral and maxillofacial surgery, prosthodontics, Human oral anatomy-physiology- histology and tooth morphology, etc. Various subjects are studied which involves the complete study of the dental organization of humans and animals. After this, one can perform surgery but is limited to the head and neck region.
Post-Degree:
After degree courses, you can apply for MDS courses, i.e Master courses in dental. 2 years of academics and 1year of the internship is involved, which is provided by various colleges in India and also in Foreign countries. One can opt for masters in Oral and maxillofacial surgery which can perform surgery for jaw dislocation accident patients.
Eligibility for BDS:
One must clear 10+2 with PCB group and clear NEET exams for the admission. There are no other entrance tests available for admission in BDS.
BDS Colleges in India:
Bhartiya Vidyapeeth Deemed University, Pune
King George's Medical University, Lucknow
Christian Medical College and Hospital, Ludhiana
Nair Hospital Dental College, Mumbai
Y. Patil Dental College, Pune, Mumbai
Guru Nanak Institute of Dental Science and Research, Kolkata
Government Dental College and Hospital, Mumbai
Annamalai University, Tamil Nadu
Data Meghe Institute of Medical Sciences, Wardha, Maharastra.
Today there are more than 300 colleges all over India along with Government and Private colleges. The fee structure varies between the private and government colleges on a huge note.
3) B.A.M.S:
B.A.M.S is a Bachelor of Ayurvedic Medicine and Surgery. It relates to the study of Ayurveda with the concept of modern techniques for the treatment of patients. Ayurveda has its roots from the Vedic science and treatments are based upon the natural elements and herbal products. Even WHO has promoted this traditional medicine treatment system of Ayurveda.
Duration of B.A.M.S:
The course duration is for 5 years and 6 months of bachelor's degree in total. 4.5 years of educational period and 1 year of internship is conducted.
Post-Degree:
After BAMS, one can pursue the MD/MS degree in various specialized subjects provided by different colleges in India.
Syllabus of BAMS:
The course includes the history of Ayurveda system, basic principle, anatomy, physiology, pharmacology, Ayurveda pharmaceutical science, anatomy, obstetrics, gynecology, etc.
Eligibility of BAMS:
One needs to clear 12th grade with PCB group with minimum 50-60% and NEET entrance exams qualification is required. Some of the universities place age bars for the candidate admission.
BAMS Colleges in India:
Delhi University, Delhi
SGT University, Gurgaon
Parul University, Vadodara
Banaras Hindu University, Varanasi
Bhartiya Vidyapeeth Deemed University, Pune
Doon Institute of Medical Science, Dehradun
School of Ayurveda, D.Y. Patil University, Mumbai
Other than this various colleges provide courses for Ayurvedic education.
Nowadays due to public awareness about the natural products and its necessity for better health has raised the demand for such production companies that produce Ayurvedic products like The Himalaya Drug company, Patanjali, Dabur, Baidyanath, Vicco, etc. are the renowned companies where recruitment is increasing now.
4) B.H.M.S:
Bachelor of Homeopathic Medicine and Surgery is the degree course which covers the knowledge of body healing of body, pushed it more through natural drugs given with sugar balls as a carrier. Nowadays most people prefer homeopathy treatment instead of allopaths, due to its fewer side effects and so there is a constant increase in demand in this field. Homeopathy has cured old diseases and is still working hard to find a cure for lethal disorders too. It can be a good career option for the future looking towards its increasing demand.
BHMS Course Duration:
The complete course involves 5 years and 6 months duration, which includes 4.5 years of academics and 1 year of internship.
BHMS Syllabus:
The subjects involved in the complete study is Organon of Medicine, Principles of Homeopathic Philosophy and Psychology, Biochemistry, forensic medicine, homeopathic Pharmacy, and toxicology, etc. Homeopathy covers wide education of every subject which is equally important as an MBBS degree.
BHMS Eligibility:
Like every other course, you should be qualified with the PCB group in 12th grade with at least 50%. After qualifying NEET, every college has its admission process with group discussion and personal interview.
BHMS Colleges in India:
Vinayaka Missions University, Salem
Jayoti Vidyapeeth Women's University, Jaipur
RKDF University, Bhopal
Nehru Homeopathic Medical College and Hospital, New Delhi
D Y Patil Vidyapeeth, Pune
Parul University, Vadodara
Bharati Vidyapeeth Deemed University, Pune
Post-Degree:
Candidates who wish to pursue a master's in this field ahead can do MD Homeopathy, M.Sc in Psychiatry, Epidemiology, and Endocrinology also. Either you can open your clinic or work in hospitals with your degree.
5) Bachelors of Physiotherapy:
The course deals with the study of body movements and curing the disability of physical movements of body parts. The course is focused on improving the skills of body therapy, massage, dislocation of bones, movement exercises to cure the injuries, etc. Physiotherapy doesn't use drugs to cure these disorders most of the time. Ointments and external applicative oils are preferred for the treatment. One is usually recommended for physiotherapy after major injuries, accidents, or after age to make movements of the body as before.
Bachelor of Physiotherapy Course Duration:
The complete course of BPT is of 4 years and 6 months which includes 4 years of studies and 6 months of internship.
Post-degree:
After graduation, master courses in anatomy, physiology can be pursued. Along with it, diploma courses are also available. One can work for a sports physiotherapist which is a highly demanded job.
Syllabus of Bachelor of Physiotherapy:
The subjects involved the study of anatomy, community-based rehabilitation, exercise therapy, neuro-physiotherapy, orthopedics, and sports physiotherapy. The study involves the complete knowledge about the body physiology for the cure of injuries and disorders of patients. Along with it, practical's are also involved during academics.
Eligibility:
Students who wish to pursue BPT should qualify 10+2 with PCB as major subjects. One must clear CET, JIPMER all India entrance test for admission in physiotherapy colleges. Some colleges provide their entrance test for admission.
Colleges in India:
Lovely Professional University, [LPU] Jalandhar
SDM College of Physiotherapy, Karnataka
Christian Medical College, [CMC] Vellore
JSS College of Physiotherapy, Karnataka
Nizam's Institute of Medical Sciences, Hyderabad
Apollo Physiotherapy College, Hyderabad
Deen Dayal Upadhyaya Institute for Physically Handicapped, New Delhi
Post Graduate Institute of Medical Education and Research, Chandigarh
KJ Somaiya College of Physiotherapy, Mumbai
Other than this, various other private colleges provide physiotherapy education. This field can be a better career option as physiotherapy is the general need which is constant for a long time and can be a stable job for the future.
6) Pharmacy:
This is a field for the candidates who wish to work in the medical field other than being doctor. Bachelor of Pharmacy is the study of pharmacy-related to drugs and its production. One can practice as a pharmacist with a medical store or being a Medical representative.
Duration of Pharmacy:
The course duration is for 4 years along with class practical are also carried on.
Post degree:
One can pursue masters M.Pharm after degree. Doctorate courses as Pharm.D can also be pursued. Diploma courses are also available D.Pharm which are only 3 years.
Eligibility for Pharmacy :
A candidate who wishes to pursue a career in pharmacy can qualify 10+2 grade with PCB/PCMB as subjects with a minimum of 50%. Students after diploma courses (D.Pharm) are also eligible for a degree course. Also along with it, pharmacy entrance exams are to be cleared. MHT CET, IPU CET are some university exams as per the state are also conducted.
Syllabus of Pharmacy :
The subjects involved in the study are Human anatomy and physiology, biochemistry, Pharmaceutical maths and biostatistics, and Pharmaceutical biotechnology.
Pharmacy Colleges in India:
Government Pharmacy Institute, Bariatu
Government Medical College, Thiruvananthapuram
Government College of Pharmacy, Bangalore
Government College of Pharmacy, Maharashtra
Jamia Hamdard University, New Delhi
Students can apply for jobs in the field like Drug production, Drug Inspector, Drug therapist, Pharmacist, pathological labs, etc. There are various job options in this field which can be proved as a stable job option in the future.
7) B.Sc Nursing:
B.Sc Nursing is a medical course related to the field of healthcare. This field involves the study of nursing which is responsible for the acute treatment before the doctors examine the patients. This is ultimately the course that makes students ready for serving their patients. The students applying to this course are only next to doctors that help you in hospitals.
Duration of B.Sc Nursing :
The complete degree duration is of 4 years. There are 2 types of courses in B.Sc nursing. One is for 4 years and the other is a post-basic course for 2 years.
Eligibility of B.Sc Nursing:
Students who have passed 12th with PCB/PCMB group can apply for these courses. If you have a diploma in nursing, you can apply directly for a degree course.
Syllabus:
The subjects include basic knowledge about anatomy, physiology, biochemistry, nutrition, psychology, internal systems, pathology, etc. Nursing is the art of nursing the sick patients and so complete basic knowledge is provided.
B.Sc Nursing Colleges in India:
AIIMS, New Delhi
Chandigarh University, Chandigarh
Christian Medical College, Vellore
Kasturba Medical College, Mangalore
IMS Unison University, Dehradun
NIMS University, Jaipur
There is a future scope in this field but you also need to pursue higher education in this field. Various other job options in hospitals, in the research center, as educators, managers in hospitals can also be done.
8) B.Sc:
Bachelor of Science is an undergraduate degree that can be done in many subjects. The student who wishes to take a career in science, various college provide bachelors degree in a varied number of subjects. The students who wish to clear competitive exams and pursue a career in other fields with graduation eligibility can do B.Sc for the degree. By different universities, different subjects are offered. After 12th grade with PCB group, B.Sc can be pursued in the following subjects like-
Sc. Biochemistry
Sc. Biology
Sc. Health Science and Nutrition
Sc. Physics
Sc. Chemistry
Sc. Botany
Sc. Microbiology
Sc. Zoology
Sc. Forensic Science
Sc. Biotechnology
Sc. Agriculture
Sc. Pathology
Sc. Environmental Science
Duration of B.Sc :
The degree course is of 3 years with the subjects chosen.
Eligibility for B.Sc:
The minimum eligibility to enroll in this course is qualifying 12th grade with science stream. The minimum percentile for admission depends upon the universities and colleges.
Syllabus of B.Sc:
The syllabus varies with the subjects.
B.Sc Colleges in India:
Banaras Hindu University, Varanasi
University of Hyderabad, Hyderabad
Fergusson College, Pune
The Maharaj Sayajirao University of Baroda, Vadodara
Chandigarh University, Chandigarh
DU, Delhi
In India, most of the science colleges and universities provide these courses. You can opt for any subjects of your interest and go through the list of colleges in your city that provides a Bachelor in Science.
Post-degree:
The one who wishes to pursue a master's in any of the subjects can enroll for an M.Sc that provides a detailed and specialized study of the subjects.
The job recruitments are varied in sectors as per the subjects chosen but there are various career options wide open in this field.
9) Diploma Courses
Other than the courses we have listed above, some of the diploma courses can also be pursued after qualifying 10+2 with the PCB/PCMB group. The list of diploma courses is provided below. You can have a look at the list and choose the correct option for you.
Diploma in Nutrition and Dietetics
Diploma in Web Designing
Diploma in Animation and multimedia
Diploma in Textile designing
Diploma in Foreign language
Diploma in Fashion Designing
Diploma in Event management
Diploma in Civil Engineering
Other than this, journalism and Mass media courses can also be done.
I hope this article gives you your answers about your career options and clears your choice without making more confusion to you. Many such career options can be chosen other than medical courses. Have a look onto those courses before you make yourself ready for one because this is the most important phase of life and choosing a correct path for you can be difficult but is most important today. Work hard and choose a better option for you.