Informal-letters
With the advancement of new technology, the tradition of writing letters is ended now. But steel students are asked to write letters in various board exams and competitive exams in order to evaluate their writing skills. Writing is an art how you send you to massage with much clarity and with any turbulence to a receiver matters more. In this article, we are going to discuss informal letters.
How to Write Informal Letters in English for Students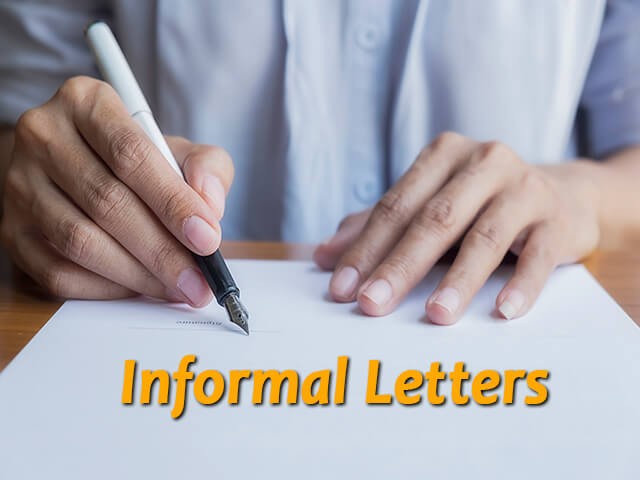 What are informal letters?
Informal letters are personal letters written to friends and relatives. These are casual letters they are not official letters. These letters can be written in friendly language rather than professional language.
Topics for Informal Letters:
General topics for which informal letters are written.
Invitation for marriage.
Invitation for Birthday.
Invitation for Tour or picnic
To Congratulate my friend on some achievements.
To ask a friend about his well-being.
To ask for some kind of help from a friend.
to Congratulate a friend or relative on his birthday.
Informal Letter Format:
While writing informal letters there is no rigid set of rules as in the case of formal letters. But there is a flexible format that people generally follow that we are going to discuss now.
we will discuss the following point here.
Address of the sender
Date
Greeting
Introduction of paragraph
Body of letter
Conclusion
Signature.
1) Address:
The address of the receiver is already written on the envelope of the letter hence here you will write only the sender's address on the left or right at the top corner of the letter. This address is important because the receiver will reply to you at this address hence it should be correct and complete. The address should include the Name of the City, state, postal code, and country. You should not write your name on the address.
Format:
Number and Street name
City, state, and postal code
Country
Example:
Durga road, Eternity mall
Aurangabad -444001
Maharashtra
India
2) Date:
After writing the address you have to write the date on which the letter is written just below the address to give the sender the idea of which date you are writing the letter to him. The Date should be written in expanded form.
3) Greetings:
Now you have to greet a person informally to whom you are writing a letter.
if you are writing to your friend then you can write to dear Karan or dear Raul. if you are writing an informal letter to your family members you can greet them by writing Dear father, Dear mother, Dear sister or Brother, etc. If you are writing an informal letter to a Senior person or Elder person such as your Teacher then you can greet them by writing Respected sir/Madam.
4) Introduction to paragraph:
Now we will begin the actual task of letter writing. It is said that well begin is half done. The starting paragraph sets the tone for the rest of the letter. At the beginning of the paragraph, you should say hello to everyone. Ask for the well-being of other members of the family. Use tag lines such as "I have not seen you for a long time" "I am writing you after so many days "or " I remember you a lot."
5) Body:
The Body of the letter should be written in friendly language. You should explain the reason to write the letter in friendly language. If you are writing a letter to your elders you should be friendly but at the same time respectful. Imagine that you meet the person to whom you are writing a letter in the real world and how you would intact with him or her. Apply the same language here in the body of the informal letter.
6) Conclusion:
At last, you should summarize the letter the reason and intention to write the letter should also be summarized. Say a loving goodbye to everyone. also, use the tag lines such as "we will meet soon "or" don't forget to reply to my letter" Or "I am looking to hear from you as soon as possible"
7) Signature:
There are many ways to sign off in an informal letter some commonly used lines are as follows.
Yours sincerely
Yours faithfully
yours truly
yours loving
Warm regards
Best wishes
Kindly
Kind regards
pick any line and just sing your name below it.
Informal Letters Examples:
Letter to an uncle on his 70th Birthday
18 Patel Road
Mumbai 400014
24 Sep 2001
Date:12/2/2020
My dear Uncle,
I have just remembered that it was your birthday on Saturday and soI must send you a Birthday letter at once. And I begin with the old greeting. Much happy return of the day.
Health is the greatest gift, contentment the greatest wealth, and faithfulness the greatest relationship may god bless you with all these. It has been a long time since I have not written to you but today s day is special. I am going to utilize this opportunity to the maximum extent to express my gratitude to you.
You have been the torchbearer for me in darkness. You guided me in my difficult days and share your life experience with me. To guide me about dos and don't in life. You teach me how to live life and protected me from doing mistakes that you commit in your life. You are always been a kind generous uncle to me. I know that you still like to read novels and stories but I hear that your eyesight is weak now but that will not be a barrier to your love for literature. Because I have dispatched an iPad as your birthday gift. It is very easy to Operate and you can play almost 1000 audiobooks on it.
Say hello to aunt marry. I am looking to meeting both of you next month. Stay healthy and be happy.
Your Loving nephew
Sachin Tekade
Informal Letter Questions and Answers
Q. What are Informal letters?
Ans: Informal letters are letters written to friends or relatives in casual language this is not official letters. The language of the informal letters is very friendly.
Q. Which greeting line I should use for informal letters?
Ans: You should use the greeting line as Dear Aunt, Dear Uncle or Dear friend you should write Dear first and then write your relation with the receiver of the letter.
Q. In an informal letter after a signature which tag line we can use?
Ans: In an informal letter after a signature we can use the following tag line.
1. Yours sincerely.
2. Yours faithfully.
3. yours truly.
4. yours loving.
5. Warm regards.
6. Best wishes.
7. Kindly.
8. Kind regards.
pick any line and just sing your name below it.