HR Questions and Answers
Hiring the right candidate has to be the toughest task for some prestigious companies and organizations. Every company searches for a candidate, who can do work with dedication and commitment by keeping work ethics and manners for a long time. You can assume this thing closely when you go for the interview and meet with the human resources team. This department is available in every prestigious workplace where they handle different types of responsibilities. Now if you want to know which kind of question goes to ask the Hr team during the interview then this article will help you in the best way.
Usually, the human resource team checks candidates' ability on different levels with the help of some important parameters, which are long-term benefits for companies/organizations as well as for employees too. During the Hr interview, you may get face to personal life and interesting area-related questions too.
Every reader here should know about some vital Hr questions, which may ask during every time of interview. If you know their satisfactory answer then you can create a tremendous impression on interviewers. While all of the questions and their answer you will read here are related to Hr interviews they will surely be helpful for you somewhere to get success in an interview.
HR Interview Questions-Answers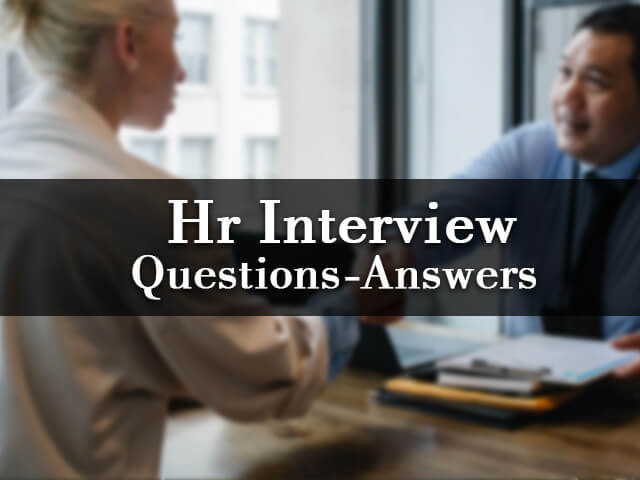 Main Content of This Article:
Various Types of Hr Interview Questions and Answers.
Conclusion.
FAQ.
Various Types of Hr Interview Questions and Answers
Most Common But Vital Human Resources Interview Questions – Answer
Whenever you go to a face an interview that time one basic and most common question can go to ask you by Hr team, which is as per given below.
1. Tell me/us something about yourself?
Tips About Answer This Question:
This is the basic question but professionally it holds big weightage for the hiring purpose. While you can create an impression by answering positive way without any kind of fumble.
Here you should not explain only about personal life but more than that you should try to express how you manage your past lifetime in a productive way.
Like here you should mention how much time you have spent in education, work experience, area of interest and motivational things in life, etc. Don't forget here to mention, who is the ideal personality for you. Let's go-to answer this question so that you will understand it better way.
Example Answer: Good afternoon Sir/Madam, at first thanks for giving me this opportunity to face the interview. I Steve M Johnson, currently living in Brisbane near the Richi-rich mall. I have done a Master's degree in instrumentation engineering, while after completion of graduation I did one year of internship at Goldsmith automotive company.
Then I moved to seek further opportunities where I did work in one of the reputed automotive companies by name of Hyundai for two years.
I worked there till the 26th of last month. In my family, I am the younger child of my parents, my parents are retired and currently we are living together. I love sketching while I love to sketch machinery parts and their designs. I love to read and follow Martin Luther King's thoughts and always believe in positive things. That's all about me.
2. What are your greatest strengths and weakness?
Tips to answer this question:
Usually, such questions go to ask to check your awareness like how much you are well known about your own strength and weakness.
Through such questions, the Hr team tries to know what are the best things available to you which may get benefit them in the future. To give an answer to such a question you should be honest and bold about your explanation.
Whatever you said earlier should not be exposed as false information later on in the future because such an attitude shows unprofessionalism in you.
If you have enough knowledge about something which you can prove if needed about that you should explain to interviewers, never try to do false commitment or try to show overconfidence about that thing which you don't know very well.
Example Answer:
Sir/Madam, I am very much more emotional sometimes than actually need and I think this is my greatest weakness. I said this thing is my weakness because every time I haven't received fruitful results from being emotional. Also, I have wasted my valuable time due to such kind of behavior.
If need to tell you about my strengths then I am so much ambitious, dedicated, and responsible about professional and personal life goals. I got many chances to prove the potential that is available to me in the last workplaces, where I had given satisfactory results to that organization. I can say all of these things are my true strengths, I would love to keep continue the same potential and dedication in the future workplace.
3. Why do you want to switch your current job?
Sample Answer 1: Actually for 3 years I am working with this company while they work on the agreement policy, which has a 3-year of duration applicable for every employee.
Last month I have completed my agreement with them and neither they are unhappy with my job switching decision nor from me. I want to explore myself in various domains and your company works in the same manner. That's why I think it can be a good time for me to make a decision about switching my current profile.
Sample Answer 2: I have completed a master's degree education in mechanical engineering. When I joined this company that time I started working as a trainee, after that till today's date my work experience with them is almost 3 and half years.
I always wanted to work with a multinational company where I can move further into a different country also for some years. As per my knowledge your company gives such type of chance where an employee can move for work into abroad. I would love to grab such a kind of opportunity in fact I am so much excited about that.
Sample Answer 3: Actually I am so much ambitious by nature, and I love to expand my knowledge and use all kinds of potential available to me.
I guess your company works on various platforms where a lot of things I can learn. For me, knowledge and fruitful experience keep big meaning in life, and I am sure I will involve with career-oriented things which will give me a big return back for the future.
In fact, I am trying to connect with such an organization/company which will teach me more than pay, and it seems like you work in the same manner.
4. What you can say about two years of work gap as we are looking at your resume?
Sample Answer 1: Actually in the year 2016, I was working in one small IT firm which was located around 50km from my native place. Every day I used to travel by bike to reach the office, due to that one day I had faced with road accident situation.
Due to some major injuries, I was admitted for two months in hospital, and as per the doctor's suggestion, I took a rest for one year. Due to such kind of accidental issue I lost one year and some months on the bed. For the last two months, I am searching for a new job, so as you asked me about the work gap so main reason behind that is serious accidental incidence.
Sample Answer 2: Actually I have completed my master's graduation in M.sc computer science, on next month of final results got a chance as a trainee in software developer company.
Around one year I worked with that company then I took the decision to complete some programming language and web development courses.
After done enrollment, I knew one thing there I will need to give a minimum of two years for the completion of these courses in the right way. That's why I left that job and pleasant thing is that I have successfully completed all the courses for which I took a break from work. So that's why you are looking there two years of work gap in my resume.
5. Why do you want to work with our company?
Sample Answer 1: To reach the highest level of a career I want to connect with that company or organization that will give me chance to work in different domains. Also, I would like to represent a successful person in my personal and professional life. I am sure if you will give me this opportunity then somewhere I will fulfill all my ambitions and future goals.
Sample Answer 2: I am very much optimistic, and that's why I am doing everything positively in my current company. In the last two years of work experience, I got fruitful knowledge from my current company. But now I want to do personal and professional growth, that's what I am seeking right now. I guess if I will grab this opportunity then it will be the best opportunity for me as per my requirement, due to that I want to work with your company.
6. Why should we hire you?
Sample Answer 1: Currently I am working in a company whose work culture and background are almost similar to your company. That's why I know how to handle this profile-related responsibility in a better way. I am used to working in pressure-like situations, while I give more importance to practical things.
I am sure if you will give me the opportunity to work with you then I will use my previous experience, knowledge, and potential to fulfill your work-related expectations.
Sample Answer 2: I have the ability to make decisions fast in the workplace, as per my knowledge this profile needs a person who has self-motivated and open-minded and I am the same as that. Already I have experience working in pressure-like situations. Neither do I like to deny work-related responsibility nor do I prefer to keep that pending. If you will give me this opportunity to work with you, then I will try to give you my best output.
7. As a fresher what type of work performance we can expect from you?
Sample Answer 1: Sir/Madam, as I have completed my education in the science stream, so during my regular education I was trying to learn something new every month. I had set my own task for every month, like which things I should complete and into how much duration that should go to complete.
I know I am a fresher candidate and I am not that much friendly with the work environment and all other parameters. But if I will get a chance to work with your company, then I will try to use all the potential and strength available to me. Apart from that, I will try to minimize my mistakes and give you the best every time from my work.
Sample Answer 2: Usually I like to focus on fruitful things from that I could get something useful. Also, I am open-minded and self-motivated while I look to think more about practical things. If you will give me chance to work with you then I will keep my attention only on work responsibilities and productive things for your company.
Every time I will try to give importance to my professional life by minimizing personal life hurdles. As a fresher I know I need to learn more new things but I am humbled to learn everything that will make me successful in professional life.
8. What are your salary expectations?
Sample Answer 1: As I have mentioned my current salary is on my resume, so right now I m not thinking about salary. I would like to learn something new from this job profile. In the end, I would like to hear a salary decision from your side.
Sample Answer 2: Honestly I don't think about it right now, moreover I would like to see myself as an employee of your company. I think it will be your decision and that will make me happy, from the current time I agree with your company norms and policy.
Sample Answer 3: I think all rights to decide salary are reserved for you. I want to work with your company and achieve growth in life. So it will be the more pleasing thing for me to hear about salary confirmation from your side.
9. Are you willing to travel?
Ans: Yes or No. You can give here answer as per suitable to you.
10. How long you will be committed to us?
Ans: I will continue my work in this company until I am able to give you my best performance, except if sudden health issues arise and harm me. At the current time, I would like to give you the strong assurance that as long you will give me support and motivation for that duration I am ready to work with you.
Conclusion:
During the Hr interview, you may face various types of questions, while as per your current status you will face that kind of question. Like here you can get to see the difference between the asked questions of freshers and experienced candidates. Some questions are very basic and they can be asked to any type of candidate. If you want to get introduced to such types of basic and important Hr interview questions, then you can get references from this article.
Frequently Asked Questions about Hr Interview questions- FAQ.
Q. Which thing can create a bad impression on the candidate side during the Hr interview round?
Ans: Providing false information about professional or personal life from candidates can create a bad impression during the Hr interview.
Q. Can it be a good thing to prepare questions and answers before going to face an Hr interview?
Ans: Yes.
Q. What is the most common question you may get to face during the Hr Interview round?
Ans: "Tell me something about yourself" or "Tell us something about yourself". In another way, this question can go to ask you like, "Give me your introduction".
Q. Due to which things candidate may get rejected during the Hr interview round?
Ans: Providing false information about personal and professional life, Misbehavior during the interview, too much overconfidence during the answering to interview round questions, Unable to answer interview questions in a satisfactory way, bad words usage about previous work company/workplace or Organization during the interview, etc.
Q. Is it a good thing to discuss more salary hikes for the first time during the Hr interview round?
Ans: Professionally it is not a good manner, but sometimes situations may be like this where the Hr team can ask you about salary expectations and interview time can get exceeded. So it is always a better thing to discuss such a topic as per the interviewer's interest and availability.