All about MCM Course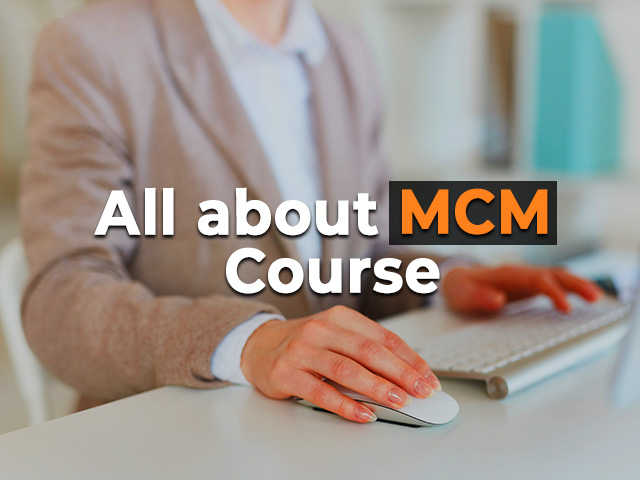 MCM Course
Master of Computer Management is a post-graduate program with a duration of 2 years. MCM course imparts proper knowledge of skill in software to meet the demands of IT companies. After completing this course you can make your career in the IT sector. In the MCM course management principles are taught with computer science due to this management of computer networks, computer systems, and projects become easy. The duration of this course is 2 years which is divided into 4 semesters.
This program provides practical and theoretical knowledge of software testing, database management, networking fundamentals, operating system, Financial Accounting, Web Designing & Web Tools, Software Installation, Management Information systems & ERP, Java, Computer Fundamentals & Hardware, Quality Control, and Software Testing, Data Mining & Data Warehousing.
Any graduate can take admitted to an MCM course despite his stream having or does not has computer science as one of the graduation subjects. MCM program is designed to improve the management skills and programming skills of students so that students can use computers as tools in business environments, which could be a small departmental store or large multinational company
MCM course in Brief
| | |
| --- | --- |
| Master in Computer Management | Master in Computer Management |
| Abbreviation of course | MCM |
| Duration of course | 2 years |
| Level of course | Postgraduate |
| Pattern of Course | Semester pattern |
| Admission | Entrance exam based/merit-based |
| Eligibility Criteria | Graduation with a minimum of 45% marks |
Why you should Select the MCM course for completing post-graduation?
The graduate of any stream with 45% aggregate marks can take admission to the MCM course and this course gives you theoretical and practical knowledge of computer-related skills such as programming Software testing, database management, networking fundamentals, and so on.
After completion of this course, you can plan your career in the fields of System management, system architecture, system design, software development, testing, or research.
After completing MCM you can make a career in the following fields:
Information System Manager
Software Publisher
Junior Programmer
Computer Support Service Specialist
Software Developer
Computer Presentation Specialist
Eligibility Criteria for MCM Course:
Any graduate with 45% aggregate marks.
Some colleges also take an Entrance exam to shortlist the candidate.
Admission process For MCM Course
The aspirants first have to appear for the entrance exam conducted by some universities and colleges.
Based on their performance in the entrance exam and academic record of graduation the candidates are shortlisted for admission.
You have to download the admission form from the website of the college or purchase it from the college authority.
Fill out the application form and necessary details and attach your mark list and scorecard with the form and submit it to the college admission cell.
Syllabus and subject of MCM course
The syllabus of the MCM course is divided into 4 -semesters its information is given below in detail.
Semester-I
C Programming
Software Engineering and Business Process
PPM and OB
Fundamentals of Information Technology
Web Programming and E-Commerce
Operating Systems
Practical
Semester-II
Database Management Systems
Data structure and Algorithms
Basic Java or Core Ruby
Object-Oriented Designing
Oracle
Practical
Semester-III
Business Application
Linux
Advance Java or Advance Ruby
VB.NET
Software Project Management
Practical
Semester-IV
Mobile Computing
Cyber Law
ASP.NET
Information Security
Multimedia and Web Designing
Quality Control and Software Testing
Network Technologies
Practical
Project
Top 10 Colleges for MCM
Neville Wadia Institute of Management Studies and Research, Pune, Maharashtra.
Institute of Management Studies Career Development & Research, Ahmednagar, Maharashtra.
ShaShib College of Science & Management, Bhopal, Madhya Pradesh.
Shard College of Arts, Commerce & Science, Pune, Maharashtra.
Allana  Institute of Management Science, Pune, Maharashtra.
VMV JMT and JJP Science College, Nagpur, Maharashtra.
Gondwana  University, Gadchiroli, Maharashtra.
Arihant Institute of Management Studies, Pune, Maharashtra.
Lok Mahavidyalaya, Wardha, Maharashtra.
Natwarlal Maniklal Dalal College of Arts Commerce Law and Management, Gondiya, Maharashtra
Career Prospects after completing Master of computer management
The career prospects after completing MCM depend on your skills and experience in the information technology sector. You can start your career as a programmer to project leader and your salary varies between INR 2 to 4 lakh per annum. The following tables give details of different job profile, their description, and the average annual salary that you can get after completing your MCM degree.
| | | |
| --- | --- | --- |
| Job Profile | Job Description | Average Annual Salary |
| Computer System Analyst | A computer system Analyst analyzes the organization's computer system, procedures, and design. And formulate a system solutions to help the organization function more smoothly and effectively. | 5 to 6 lakh per annum |
| Computer Scientists | Computer Scientists work as a part of a research team they work in collaboration with electrical engineers, IT professionals, and mechanical engineers to research advanced topics such as robotics or virtual reality | 4 to 7 lakh per annum |
| Professor | After completing MCM you can teach the programming skills that you acquire to others. You can become a computer teacher, or professor and teach the different subjects of M.C.M | 4 lakh to 7 lakh per annum |
| Database administrator | Database administrators build databases and implement databases according to the needs of users. Maintaining the integrity and performance of the company database. Ensuring the security of the company database | 2 lakh to 11 lakh per annum |
| Software Developer | As a software developer, you are involved in designing, coding, testing, and maintaining different software that makes life easy. | 3 lakh to 9 lakh per annum. |
| Information System Manager | Information System managers manage the work of other IT professionals and they work under the Chief operating officer. | 7 lakh to 8 lakh per annum |
How MCM is beneficial to you even if you do not get a job in IT Sector?
MCM is a professional degree even if you do not get a job in the IT sector you can apply your programming skills and knowledge to earn money.
Following are a few options to earn money through your coding skills
Open a Coaching class to teach programming languages.
Make your own commercial website and upload a blog, video, and educational content on it to earn money.
You can make your own software and games and sell them.
But to do the above activity you need complete and comprehensive knowledge of programming languages.
FAQ About MCM Course
Q. What is the full form of MCM?
Ans: Master of computer management
Q. What is the duration of the MCM course?
Ans: The duration of the MCM course is 2 years.
Q. What is the type of MCM exams the annual pattern or semester pattern?
Ans: MCM has a semester pattern and it has a total of 4 semesters.
Q. What is the difference between MCA and MCM degrees.
Ans: Both are degrees related to creating professionals in IT sectors but in MCM programming is taught with management skills and in MCA more emphasis is laid on programming and application of computers in different fields. Management skills are not taught in MCA.
Q. Do We have to give an entrance exam to get admission to the MCM course?
Ans: It depends upon college and university some colleges also give admission without an entrance exam but some conduct entrance exams.