Emergency Leave Email Formation Method
As a professional when we need to inform important information to a higher authority like the human resource department, or company manager, one way is considered as a professional from some decades well known as email. As per the standard policy or manner, email through confirmation is always acceptable world widely into most companies. When an employee wants to take a leave on an emergency basis the email service proves quite helpful and beneficial.
If you need to send an email on an emergency basis at the office for leave at that time it is essential to know about such email construction. Some basic and simple points keep important when you need to construct an email for emergency leave. In this article, you will get to read information related to this topic, where you will get to know everything about it.
The motive of this article is to provide you with a basic structure with some examples related to emergency leave email, so that whenever you will need to compose and send this type of mail then this information can be one kind of reference for you.
How to Write emergency Leave Email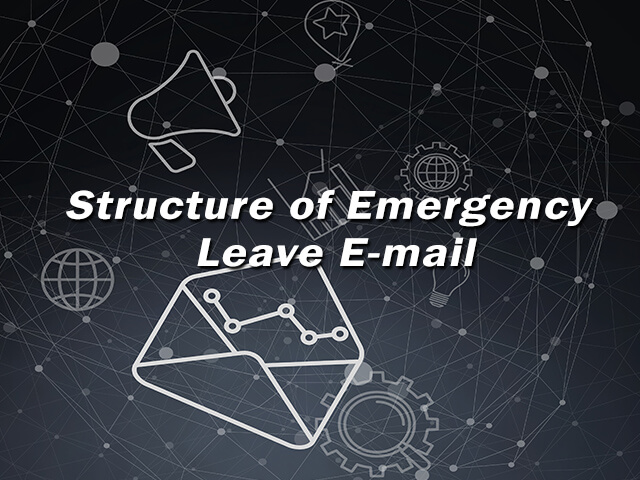 Main Content:
Key Points About Emergency Leave E-mail
Emergency Leave Email structure Related Information.
Examples of Emergency Leave E-mail
FAQ.
Key Points About Emergency Leave E-mail
We will discuss here some key points which should mention in the emergency leave email. As given below some basic points will guide you about the composition of such kind of email. Let's see them;
Mention true reason with clear information about leave.
Explanation about job responsibilities.
Mention the duration of the leave.
Must add 'Subject' section to E-mail.
Need to follow up on human resource/ company policies.
Respect and humbleness should reflect in the email.
Apart from the above points, with more things, you will get introduced, when you will read some examples about it.
Emergency Leave Email structure Related Information
Mention the specific email address of the receiver in that particular section, in the case of email receiver persons, are more than one then in the 'cc' section, you need to mention all of that person's email addresses.
Write 'To' at the starting of the email then give a comma in front of that.
Exact below 'To', write that person designation to whom you need to inform about leave. Examples – Human Resource Manager, The Manager, Team Leader, etc.
Then below that mention company address. Then after exact below that mention specific date on which day you need to send a mail.
Next below to date, you need to mention the specific reason for which you want to take a leave in an emergency. Must be sure that the reason of leave is true and genuine.
The main body of the email starts with some respectful words like 'Respected Sir/Madam, Dear sir/ Madam, etc.
The main body is the important section of the mail where you need to explain the specific reason for which you want to take a leave. Try to explain your reason in detail but in short words.
Here in the main body, you should mention the specific duration for which you want to take a leave.
Also, you need to explain job responsibilities related to some matters like what is your plan after come back to the work. This means here you need to explain clearly all that plan by which how you will complete pending work in the meanwhile time after resuming on work.
Make sure to follow the work policy, which is available in your company, and mention that in the mail. Here one kind of commitment is necessary by your side and it should be mentioned in the mail.
If the reason behind your emergency leave is a critical situation then as an employee you can explain that in the mail because no one knows what some situations will take how much time to get sorted out. So If you are getting stuck in such kind of situation then mention that without any kind of hesitation in the mail.
You can end the main body of the mail with the words 'Thanks so much', Thanking you, etc. While you need to end the mail composition with words like 'Yours Sincerely', 'Sincerely' or 'Yours Faithfully' etc.
Next, you have to write your full name with designation then your employee ID number, and contact details one by one.
With the help of all these things mentioned above, you can write an email for emergency leave, while there are some other formats also available with the help of them you can write a mail. You will get to read such kinds of leave mail format next.
Examples of Emergency Leave E-mail
Mail for emergency leave from office due to family member health issue.
Mail for emergency leave from office due to accidental issue.
Examples 1 – Mail for emergency leave from office due to a family member's health issue.
Chris Brown
11235, Near Streetview park,
In front of Dell showroom, Seattle (USA)
March 10, 2015.
Subject:- Emergency Leave Application due to family member health issue.
To,
The Human Resource Manager,
Technosoft Pvt Ltd, Opposite golden bridge, IT Park
Seattle (USA), 11750
Respected Sir/Madam,
Due to respect, I Chris brown a technical analyst of Technosoft Pvt ltd want to inform you that, unfortunately, one sad incident happened to my family that my father collapsed into bedroom suddenly with unconsciousness. When we admitted him into the hospital after a few minutes it is detected that they have a major heart attack. The doctor told them that he will be under observation by the medical team for the next one week, while nothing can be said at this moment like how much time will take for his health to recover. It is my humble request that I need one week's leave so that I will be able to help you in every situation there. From this afternoon I need leave as I want to leave on an emergency basis. Hope you will allow think over my request and accept my leave application. I assure you that after one week I will come back to the office and complete my pending work. I will plan for that, to give my best to complete all our projects. Thanking You
Yours Sincerely,
Chris Brown
Technical Analyst.
Employee ID Number: ———-
Simple and Straightforward mail
Example 2 – Emergency Leave Mail Due to Serious Accidental Issue with Wife.
Respected Sir/Madam,
This is Mr. Nathan Fleming want to inform you sadly that on today afternoon time my wife met with road accident incidence into that she got very much injured. Immediately people who were available there hospitalized her. I knew this thing after 20 minutes, now I am in the hospital. My wife is in the intensive care unit now and the doctor said that the next 24 hours are so critical for her, it is not only shocking but also heartbreaking incidence for me. I want to humbly request you that please allow me to leave for the next 5 days. I have to stay here in the hospital to take care of my wife while I have my children's responsibilities too. Hope you will understand my issue and accept my leave request. Once my wife will be recovered I will come back into the office and handle my all responsibility. I want to assure you that I will complete my all pending work. Also if there will -a need to join a meeting, then I will manage that via video call if you will allow me that. Thanks so much
Yours Faithfully,
Nathan J Fleming,
Technical Assistant
Global Soft Pvt. Ltd, Manchester(UK)
Employee ID Number: ——————–
Date: 18/02/2012.
Note:- All the persons, places, and companies' names mentioned here in this article are given for example purpose, it is not related to any kind of existing thing. If there is any kind of similarity between this information with any existing thing then it will be considered just a coincidence.
In this way, you have read some important information about leaving mail in the office in an emergency situation. Apart from that there are given two examples of such type of leave-related mail. Hope you have understood all of this information while it will beneficial for you to construct such kind of mail. Try to share this information with others, Thanks for being with us.
Frequently Asked Questions on Emergency Leave Mail
Q. Can we write straightforward mail to the office for leave in an emergency situation?
Ans: Yes.
Q. In case we need to take emergency leave from the office then what should be mentioned in leave-related mail?
Ans: Reason should be mentioned clearly in the main body of the mail. Duration of leave with assurance about pending job responsibilities should have been mentioned in such type of mail.
Q. For what reason, anyone can write down emergency leave mail to the office?
Ans: Due to sudden health issues, Accidental situations, Critical issues with family members or yourself, etc.
Q. It is essential to mention the subject in the emergency leave mail to the office?
Ans: Yes, you have to mention the specific reason in the subject section like for what you need an emergency leave from office.
Q. To whom we can write down emergency leave mail in the office?
Ans: To the Manager, Human Resource Manager, Process Head, Senior Authority Person, Team Leader.