All about GRE Exam
The GRE is the entrance exam for post-graduate courses in institutes outside India. The long-form of GRE exam is Graduate Record Examination. The GRE exam is a multiple-choice computer-based test at the international level which is mandatory for doing MS, Ph.D., or MBA in other institutes outside India. It is conducted by the Educational Testing Service (ETS). ETS was established in 1947 as a non-profit organization and it is the world's largest private educational testing and evaluation organization.
GRE Exam Details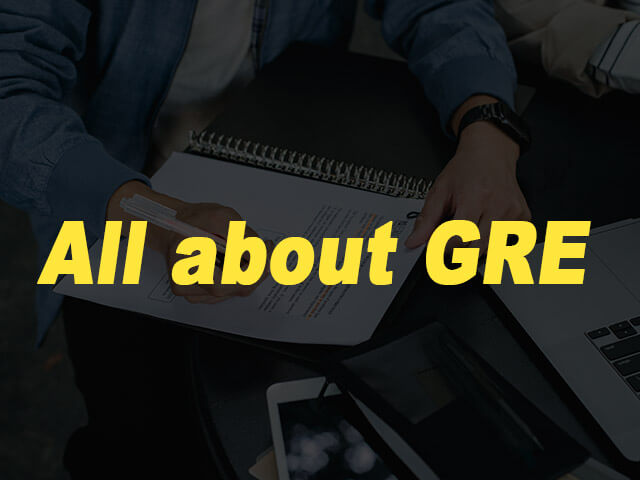 Eligibility of GRE Exam
There is no age limit for the GRE exam.
Any student who is in the final year or completed his graduation can give this exam.
To appear for the GRE exam you must have a valid passport.
Validity of score
The GRE score is valid for 5 years and students can give this exam 5 times a year. The exam is conducted at intervals of 21 days in a year.
Mode of GRE Exam
The GRE exam can be given either as a Computer-based test or Paper delivered test. The content for the paper of both methods is the same but there is a small variation in the number of questions and timings. Most students prefer computer-based tests because they can use an inbuilt calculator to do calculations. Another advantage of an online test is that you can change answers within the time limit of the paper before submission.
Types of GRE Exam
The GRE exam is of two types
General GRE
Subject Specific GRE
The subject-specific GRE is given by students who want to pursue MS or Ph.D. degree in a particular subject.The subjects of Specific GRE are as follow.
The Pattern of the GRE exam
The most common type of GRE exam is the General GRE exam hence will only focus on the pattern of the General GRE Exam. There are a total of three main sections in the GRE exam these are as follows.
Analytical writing ( This part is not considered by all universities)
Verbal Section (This part is considered by all universities hence it is compulsory)
Quantitative Reasoning (This part is considered by all universities hence it is compulsory)
In addition to this, there are two sections which are given below.
Unscored
Research
The question in these two sections are dummy questions their mark does not count in preparing the final score they are mixed up in the verbal and quantitative section candidate cannot identify which is a dummy or which is the real question. However, there is no negative marking in the GRE exam hence you should attempt all questions.
Duration of GRE Examination
The total duration of the exam is 3 hours and 45 minutes.
Adaptability Scheme of GRE
In the GRE exam the questions are asked in sections in each section there are 20 questions after a section there is a break of 1 minute. If you solve a section in less time then it is assumed by the online computer system that this particular section was easy for you then in the next section it gives a hard question to you. If you still solve it easily it gives you even harder questions in the next section. Contrary to this if you find it difficult to solve a particular section then it will give you easy questions in the next session. What we are trying to say is that sequence of questions in the paper is not fixed for all candidates. It depends upon the difficulty level of a candidate.
Syllabus of General GRE Exam
Analytical Writing(score scale: 0-6, with half-point in creates)
This is the first section of the exam. You have two write two essays both on a general topic. You have to analyze the first essay and ague on the second essay.This section tests your critical thinking and analytical writing skills and not your general knowledge of essay subjects. You will get 30 minutes to compose each essay.
Verbal Reasoning (Score scale: 130-170, with one-point increments)
Your ability to comprehend and analyze the information will be judged. There is two 30 min section each section has 20 questions. There are three types of questions reading comprehension, text completion, and sentence equivalence.
Quantitative Reasoning (Score scale: 130-170, with one-point increments)
your ability to interpret and analyze quantitive information as well as problem-solving skills are tested in this section. You must have basic maths knowledge such as algebra, arithmetic, geometry, and data analysis to excel in this part of the exam. This part includes two sections of 35 minutes, each section containing 20 questions.In addition to this GRE has an unscored or research section the mark of this section is not counted while preparing the merit list but it allows ETS to try out new questions for future use.
GRE Exam Fee:
The GRE exam fee depends upon the country you select to give the exam for instance if you select India then you have to pay USD$200 approximately. Similarly, if you select Turkey you have to pay USD$255. The fees of the different countries are given in the following table.
| | |
| --- | --- |
| Country | Fee of exam |
| All other areas of the world | $205 |
| China | $230 (approx) |
| Australia | $230 |
| Nigeria | $220 |
| Turkey | $255 |
GRE Exam vs TOEFL Exam
Both TOEFL and GRE are conducted by ETS. But both of them have different purposes TOEFL is conducted to test the knowledge of English of a non-native English speaker and GRE is conducted as a screening test for admission to MS, Ph.D., and MBA courses in top universities across the world. If you want to do MS in the USA then you need to qualify for both GRE and TOEFL which will give you admission to one of the top universities in the USA.
GRE Exam vs GMAT Exam
The students who want to take admission of MBA prefer GMAT and students who want to do post-graduate courses abroad such as MS or Ph.D. prefer GRE.Some abroad colleges also give admission to MBA on the basis of a GRE score. GRE in its verbal section gives emphasis on vocabulary and GMAT in its verbal section gives emphasis on grammar.
List of Popular University which accepts GRE scores?
Massachusetts institutes of Technology (MIT)
Universities of California, Berkeley
University of Virginia
University of North Carolina-Chapel Hill
Rice Universities
Washington University in St. Louis
University of Chicago
California Institute of Technology
University of Texas, Austin
Pennsylvania State University
University of California-San Diego
University of Wisconsin-Madison
University of Notre Dame
William and Mary
John Hopkins University
Vanderbilt University
Duke University
Northwestern University
Johns Hopkins University
Emory University
Stanford Univerisity
The University of California, Los Angeles
University of Michigan-Ann Arbor
Georgia Institute of Technology
University of Illinois-Urbana/Champaign
University of Washington
Duke University
Ohio State University
University of Washington
University of Florida
FAQ About GRE Exam
Q. What is the validity of the GRE score?
Ans: The validity of the GRE score is 5 years.
Q. What is the full form of the GRE Exam?
Ans: Graduate Record Examination
Q. What is the total duration of the GRE Exam?
Ans: The total duration of the GRE exam is 3 hours 45 minutes.
Q. In how many countries is GRE conducted?
Ans: The GRE is conducted in more than 180 countries.
Q. What is the Exam fee of the GRE for Indian students?
Ans: the Exam fee for GRE for Indian students is 205 US dollars.