High Salary Courses after 12th PCM
Choosing a career is a very important part of life and choosing a correct stream, of course, is more important for a better career life. There are various such courses offered by many different universities and colleges, but to choose from one of those thousands is quite a difficult one.
However, everybody doesn't want to be like the others but you end up choosing a stream based upon the people's advice around you and under the pressure of these people. But on another hand, we also don't want mob mentality and want to pursue something new for our-self. Choosing a perfect career life is difficult all in all but this can be made easy by knowing your strength and interest. However, people around you force you to take a lucrative job and you end up choosing it losing interest in future.
Most of the time, the struggle of this decision starts right after you pass out 10th grade and then most students end up choosing science as it's easy to turn up to other streams. Science has been one of the most popular streams for the students of 11th and 12th grades. If you opt for a science stream with Physics, Chemistry and Mathematics as your 12th subjects there are various career options for you out there.
We have listed here some of the courses that can be opted for and can even earn you a handsome salary. Have a look at the courses listed below and take the road that excites you more.
BE/B.Tech
Bachelor of Architecture
Bachelor of Science
Law
Bachelor of Computer application
Master of Business Administration
Bachelor of Animation
We have detailed these courses below along with added information. You can have a look at the courses and have thought about your strength, interest and eligibility.
Best High Salary Courses after 12th Science PCM Stream Students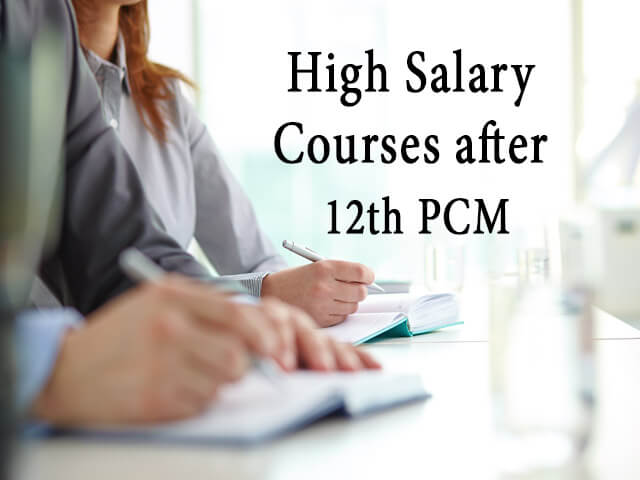 1) BE/B.Tech:
BE (Bachelor of Engineering) is an under-graduation course which involves science and technology application for the development of machines, software and systems. Engineering has got more than 100 fields which can be specialised like computer science, civil, electronics, and mechanical are the most popular.
Duration and Eligibility of B. Tech Course:
The total duration, of course, is 4 years and one can apply to this course after passing 12th grade with PCM subjects and with at least 50%. You also need to clear entrance exams like JEE mains, JEE Advanced, and MHTCET to enrol for the colleges. Other than this, every college has its admission techniques.
Post-Degree:
One can work towards master's courses (ME/M.Tech) and doctoral courses (PhD) after the degree. Depending upon the course you choose in engineering accordingly jobs in various sectors are offered. One can earn 4-5 lakhs per year at the start which can be increased as per the experience to 20-25 lakhs.
B. Tech Colleges in India:
IIT Bombay, Mumbai
IIT Delhi, Delhi
IIT Madras, Chennai
IIT Kanpur, Kanpur
IIT Kharagpur, Kharagpur
IIT Roorkee, Roorkee
School of Engineering, MIT ADTU, Pune
Y. Patil College of Technology, Pune
Let us tell you first, most of the time once you opt for the PCM group you feel engineering is the only option left with you to pursue a career. People force you to work as they find it more of a lucrative job but let us tell you that you can choose engineering as your career for more of a passion than pressure.
2) Bachelor of Architecture (B. Arch):
A Bachelor of Architecture gives you a degree in the art you have of designing, planning, programming, constructing and other physical structure. Architecture gives you a professional degree to design structures and homes for people. The course requires your skill to imagine a new trend, great drawing skills and a creative brain.
Duration and Eligibility of B. Arch Course:
The course duration is of 5 years and the candidate can enrol on this course with at least 50% marks with PCM as subjects in HSC. You also need to clear the entrance exam like JEE mains, and NATA. Other than this, some colleges arrange their entrance exams for admission.
Post-Degree:
One can go for straight architecture after the degree or can try for a master's. You can also study the specialised firms during masters like environmental design, interior designer, urban designer, civil designer and many others alongside. A degree holder can earn up to 4.10 lakhs per annum which varies depending upon the projects.
B. Arch Colleges in India:
School of Planning and Architecture, Delhi
IIT, Kharagpur
Sir J.J College of Architecture, Mumbai
Chandigarh College of Architecture, Chandigarh
Birla Institute of Technology Mesra, Ranchi
If you have a skill for freehand drawing and visualizing and your creative mind supports you, you can apply for this course and this can be a better career option for you.
3) Law:
Candidates wishing to make a career in law requires skills of being patient and logical. The lawyer is the same as other professions which require experience and are known to help people for their justice. One can work into the court laws or you can also work for corporate firms. One can also work as a legal advisor for multinational companies.
Lawyers work in different fields and one can specialised in them like- Criminal lawyer, Civil Litigation Lawyer, Document Drafting lawyer, Legal journalist, Legal Advisor, Government Lawyer and can also work as Judge.
Duration and Eligibility of Law Course:
After 12th-grade one can choose this field. There are two types of courses in law with 3 years duration and 5 years duration another one. The duration of the course depends upon the law career you want to take. Some universities arrange entrance exams for admission.
Post-Degree:
One can start practising after a degree or give a try for the master's courses M.Phil or PhD. Higher education can help a candidate get a better job with a high salary. A 5 years degree holder can work as a litigator or in any other professional firm.
Once you start working with the court you can get a stipend of 4000-5000 per month and other firm workers can earn 20,000-30,000 per month. The payment can vary according to experience, calibre, and cases you handle.
Law Colleges in India:
National Law Institute University (NLIU), Bhopal
ILS Law College, Pune
Symbiosis Society's Law College (SSLC), Pune
Amity Law School, Delhi
Government Law College, Mumbai
Banaras Hindu University, Varanasi
NALSAR University of Law, Hyderabad
National Law School of India University (NLSIU), Bangalore
Law is a highly paid profession and working in different firms can increase your experience and calibre to work in the actual market. Law can open career options for you to incorporate sectors and administrative sectors also.
4) Bachelor of Computer Application (BCA):
Bachelor of Computer Application (BCA) is an under-graduation course which deals with the world of computer languages. BCA is a course which can take you towards Information Technology sectors. One who wishes to work in the world of computers and their techniques can go for this field. This degree can help you to establish an advanced career in computer application.
Duration and Eligibility of B. Arch Course:
The total duration, of course, is 3 years. The one who wishes to enrol in this career needs to require 12th grade with at least 50%. There are no restrictions with relation to subjects, arts and commerce students can also enrol on this course.
Post-Degree:
Once you complete the degree, you can work with companies that deal with IT and Software. Software development, Testing, and Digital marketing are the prime sectors of job recruitment. You can also work as a system engineer, web designer and also as a programme designer. The average salary of a degree holder in this field earns around 2 lakh to 5- lakh. You can also try for (MCA) master courses.
BCA Colleges in India:
Parul University, Vadodara
Stella Maris College, Tamil Nadu
Madras Christian College, Chennai
LPU University, Jalandhar
Birla Institute of Technology, Ranchi
Symbiosis Institute of Computer Science and Research, Pune
VIT University, Vellore
Joseph's College, Bangalore
As the IT sectors are increasing, the demand is also increasing for BCA graduates and henceforth, you can choose this as your career option.
5) Bachelor of Science (B.Sc.):
Bachelor of Science is an under-graduation course that specialises in various subjects along with Physics, Chemistry, Biology, Zoology and Botany. It offers theoretical and practical knowledge about each subject and can be opted as per preferences. It provides a base if you wish to pursue a career for competitive exams that requires graduation eligibility.
If you are interested to study Bachelor of Science, it is offered in various subjects like Information technology, computer science, electronics, etc. Wide job options are open in various subjects that can be pursued.
Duration and Eligibility of B.Sc. Course:
The total duration, of course, is for 3 years and the eligibility to enrol in any subject is you should pursue the same subject during your HSC. You need to qualify for 12th grade with at least 45% is the only eligibility criteria.
Post-Degree:
After graduation, one can enrol for master's and doctoral degrees in their specified subjects. One can also look further for competitive exams in their career. The salary income depends upon the sector you work in.
B. Sc. Colleges in India:
Xavier's College, Mumbai
Christ University, Bangalore
Loyola College, Chennai
Chandigarh University, Chandigarh
Madras Christian College, Chennai
Other than this, the most university offers these courses in their colleges. One can opt for any of the colleges as per their preferences and priorities.
6) Bachelor of Animation:
B.Sc is an undergraduate course known to very few today. The courses are offered by very few institutes and universities. Some of the private institutes are offering this course nowadays. It is the creative art of creating an illusion of motion and displays static images in a film form. It requires quite a technical skill to create a career in animation and strong creative skills in arts and design.
Duration and Eligibility for Animation courses:
The course duration is of 3 years and the minimum eligibility is to pass 10+2 with qualifying marks. The one with Science and arts stream is preferred. The process of admission varies with the institutes offering the course. The average fees range from 8,000 to 15000.
Post-Degree:
After graduation, a candidate can explore various sectors of jobs related to web designers, game designers, animation films, games, television shows, etc. One can earn 3 lakh to 5 lakh on average in this field.
Best Animation Colleges in India:
Tolani Institute of Management Studies, Gujrat
Amity University, Mumbai
Manipal University, Manipal
Holkar Science College, Indore
Fergusson College, Pune
Quantum University, Roorkee
Usually, no entrance exams are conducted in-country and admission processes are easy for most colleges. Animation has always been an attractive point and you can focus on this subject as a career for you.
7) Masters of Business Administration (MBA):
MBA is a post-graduate course that gives a lot of opportunities open to various job options. The course provides a degree in management in various job sectors. The course deals with the work sectors of Human Recourses, Management, Finance, Business and Banking. One who has excellent communication skills and leadership qualities and has a creative mind can opt for this course.
Duration and Eligibility of MBA Course:
The total duration of the course is for 2 years and a bachelor's degree from any stream and recognised university passed out with at least 50% can enrol for this course. A final year student from graduation can also enrol for this course.
An entrance exam has to be cleared by the candidate wishing to pursue an MBA like CAT, XAT, and MAT to apply for the top colleges in India. After qualifying for the entrance exam, the candidate needs to clear further three rounds for selection into a university, i.e, written test, group discussion, and interview.
Post-Degree:
After graduation, one can look out for jobs in various sectors with banks, multinational companies, marketing sectors, etc. Every company recruits an MBA for its company progress. During college placements also you can try for company jobs. One can averagely earn more than 6 lakhs per year and varies with experience in field, seniority and area of work.
MBA Colleges in India:
IIM Ahmadabad, Ahmadabad
School of Management, Pune
Parul University, Vadodara
IIM Calcutta, Kolkata
Nalanda University, Nalanda
IIM Pune, Pune
IIM Unison University, Dehradun
ITM Business School, Mumbai
Taxila Business School, Jaipur
MBA can be further studied in the specialisation of different subjects like Marketing, Finance, Information technology, International Business, Banking, System management, etc.
After graduation from any of the streams, if you wish to pursue a career in this sector you can happily apply for it. MBA has always been an amusement sector which is related to different and exciting company jobs. This can be an exciting job for you too and hence you can try your hand in this sector which even earns you a handsome salary.
We have discussed some of the options above and you can have a look at them and choose the correct career for yourself. Hope we are successful in making your confusion away and we are trying hard to help you through this phase of your life.
But even if you have explored all the courses and you are still not able to decide on the correct one, you can try for an aptitude test. Based on your eligibility you can look for the aptitude test and match it with your career choice. Other than this, you can look for a career counsellor who can guide you towards a better one.