How to Make a Resume for Freshers
If you have completed your graduation recently and are interested in searching for a job for you. Then you have to write a document that provides information to the employer about your academic qualification, your achievements, professional skills, and focus of interest area of candidates.
Your resume gives the employer the first impression that why you are better than others for a particular job. But writing a resume for fresher is very difficult because at this stage you don't have the most valuable quality the experience. In this article, we will give you some tips about how to write a resume for freshers.
How to Make a Resume for Freshers guide and tips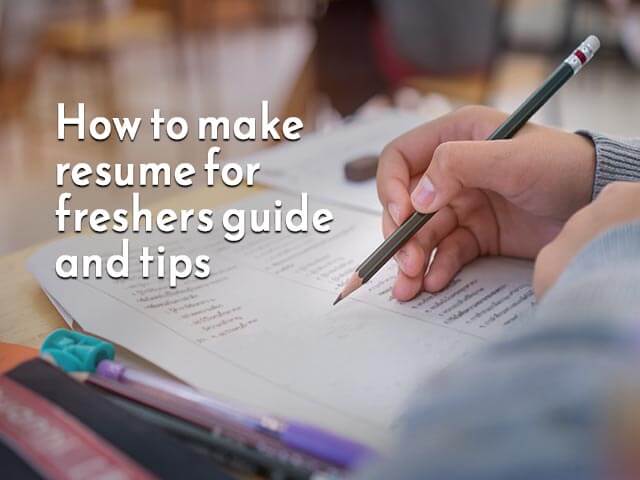 How to write a Resume for Freshers
Following are the tips on how to write an attractive resume or CV for freshers.
1) Do not make any grammar or spelling mistakes:
The first thing the reader of your resume will notice is that are there any grammatical or spelling mistakes in your resume. It leaves a very bad impression hence always cross-check your resume for grammar and spelling mistakes. The sentence should not be too long but precise you should give significant information in limited words. Your language should be formal and polite.
2) Read the Job description:
Before you write the resume you should read the Job description well this will give you an idea of which keywords should you use in the resume. If you are writing a resume for a particular job then you should know everything about the job as well such as what is job profile, salary, Department of work, etc, and then you should prepare your resume.
3) Information that your resume must contain:
Your resume must contain your updated contact information such as Name, Address, Mobile no, links to your social media account, and email Id. You must write your academic qualification in chronological order you must mention the name of the institute and the year of passing from that institute. Also mentioning your skills, personal achievement, and work Experience is not expected from fresher but you can add internship or seminar details here.
4) Write an attractive summary statement:
The summary statement shows who you are as a professional what are your career goals and how you are productive to the company.
5) Highlight the skills needed for the job:
Every job requires some skills. In your resume, you should highlight the skill needed for the job. In your college days, you study many subjects. After studying these subjects you acquire knowledge and skills. It is not necessary that you should excel in all skills but you should highlight the skill which suits that particular job.
For example, if you want to work in a pharma company then you should highlight chemistry skills if you want to work in an IT company then you should highlight programming skills.
6) Highlight the educational qualification:
You should highlight your educational qualification in chronological order. Don't forget to write the name of the board and the university form in which you get the respective degree or certificate also mention the passing year. You should also mention your personal achievement in academics, sports, and extracurricular activities.
7) Include Relevant Experience:
Experience is not expected in the fresher resume but if you have done internships or given seminars or project work add their details in the resume because it gives you extra priority over the other freshers.
8) Mention Hobbies and Interests:
Mention your Hobbies and Interest in your resume and mention them honestly. Don't write anything because remember whatever you write in the resume as hobbies and interest in an interview you will be asked question related to it. Your hobbies and interest give the employer an idea of what kind of person you are.
9) Highlight miscellaneous skills:
You should mention the miscellaneous skills such as command over the other languages, computer typing skills, etc. If you know how to operate specialized software such as Auto-CAD, Tally, or any other professional software used by hiring companies.
10) Proofread and edit the resume:
After writing the resume check it for grammatical and spelling mistakes and edit the resume where necessary. Take the help of an educated friend or family member to check for grammatical errors and spelling mistakes. Take their suggestion and edit the resume if necessary.
Questions on Resume Writing:
Q. Why writing a resume for a fresher is a difficult task?
Ans: Writing a resume for a fresher is a difficult task because fresher have no work experience.
Q. What is the main purpose of writing a resume?
Ans: The main purpose of writing a resume is to give the employer a brief summary of your academic record.
Q. Why you should not write any invalid or fake information in your resume?
Ans: The employer has copies of your mark list and degrees at the time of your interview and based on your resume he decides the questions that are asked in the interview. If any information mismatches the employer may think of you as a dishonest person and reject you.
Q. What a fresher should write in place of work experience?
Ans: A fresher does not have any relevant work experience hence he should write the details of internship, project, and seminar details in work experience.