My Role Model Essay
As a child, we constantly admire someone. There is a special person in our life who inspires and motivates us. We always dreamed of becoming like him when we will reach our adulthood. This special person is our role model. A role model can be any person, parent, teacher, politician, actor, and sportsman.
My Role Model Essay in English for Students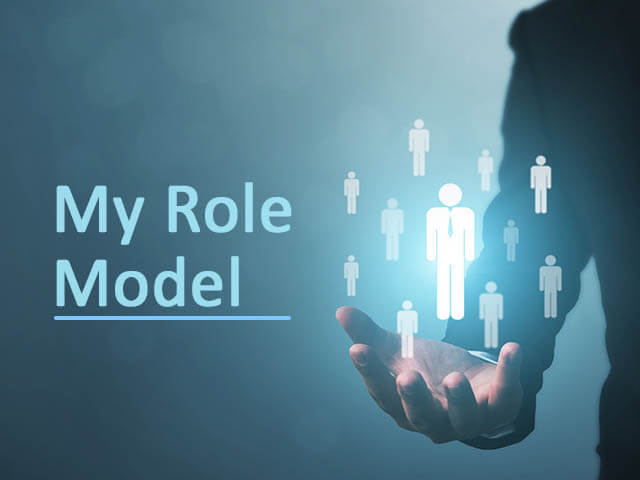 My role model is my math teacher Sri Rahul Mishra sir. He is my tuition teacher. I am taking tuitions from him since I was in 4th class. We frankly call him Rahul sir. He is very friendly with us but at the same time equally strict. He teaches math with very simple language but deep understanding. He treats every student of his as his family member. He is a very responsible person he completes the syllabus in time.
The most important quality of Rahul sir, which we all admire, is that he is not greedy like other tuition teachers. He takes reasonable fees and gives scholarships to meritorious students. The family background of Rahul sir was very weak his father was a farmer and his mother was labor in the field. Despite of weak financial background Rahul sir studied hard and completed his graduation in PCM group. He did not complete his post-graduation because of financial problems in his family.
Rahul sir's main subject is math's but he also teaches science and English. He has knowledge of almost every subject. He is very hardworking and he motivates us to be hard-work like him. We go to his tuition at sharp 6.00 am. If we come late he punishes us by making us do sit-ups. He strictly follows time starts and completes every task within the time limit. We are free to ask him anything whenever we ask him any question he never leaves us disappointed.
He gives funny examples while teaching hence we never fill boarded in his class. While teaching he also explains, in brief, the application of that particular topic which creates interest in the mind of the student. He explains everything point-wise in detail with great enthusiasm. Not only his explanation but also his blackboard writing is awesome. Even an average student in his class will grasp the most difficult topic easily.
He is a very strict and disciplined person. He maintains discipline in his classroom throughout class time. He makes no difference between reach and poor student, Brilliant and dull student, boys or girls he treats all equally and does no partiality. He is the most respected person in our society.
Even if we don't perform well in our studies then Rahul sir don't scold us he motivate us by saying failure is the first step of success. He always says that good student studies for knowledge marks are by-product. He never talks rudely to any student. He is a teacher not by profession but by heart. He always says that teaching is not his profession but teaching is his mission.
He also attains seminars and motivational speeches for the student in which he gives information about various competitive exams. He attains seminars for weak students about how they can perform well in their studies. He takes parents meeting to discuss with them the performance of their child. On Sunday, he takes extra batches for weak students free of cost.
Rahul's sir interaction with me is very casual. I am not afraid to ask him anything. He also sometimes comes to my house to meet my parents. He lives a very simple lifestyle he wears simple clothes you will always see a watch in his hand's spectacles on his eyes. He is rich but never shows it to others he likes to live simple lifestyles.
He never gives wrong suggestions or teaching to any student if he doesn't know the answer he politely says. Sorry, I don't have the answer to your question. He never gives advertisements in the newspaper for admission to his tuition he says I need no publicity my student is my publicity.
He is my favorite personality because a good teacher teaches, better teachers explains, and best teacher inspires he is the person who inspires me one day I will also become a teacher like him.